ImTOO RM Converter 3.1 - User Guide and FAQ
Screenshots - More Details




How to use ImTOO RM Converter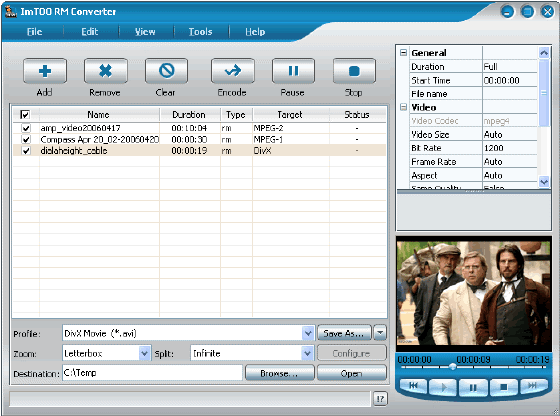 Click the button "add" to add the file you want to convert.
You can change the "skin" and "language" in the settings.
Follow the suggestion.
Frequently Asked Questions - ImTOO RM Converter
I am really a beginner to this kind of video conversion tools. It is hard for me to understand the way to use your program. Is it possible to offer me a simple way?
In the ImTOO RM Converter v3.1, it provides a Wizard for beginners, which is quite easy and convenient. You can run it by the shortcut for Wizard from desktop after installation. In each step, it has clear description about what to do, guiding the conversion job. And also, our program can be run in normal mode and Wizard mode simultaneously, performing different conversion jobs.


I want to change some settings of conversion. Where can I find them?
All the settings of the software can be found on the right panel of the main interface. After you highlight the file you load and select the output format, the settings that can be changed will be active, such as the "Frame Rate", "Sample Rate", "and Video/Audio Bit rate" and so on. Some of them are in dropdown lists and some of them can be changed just by entering a concrete number. In the Wizard, you can reach them in the fourth step, "Select Profile", by clicking "Advanced Settings".


I have a video file. I hope that it is in a new name after conversion. But it would be not convenient for me to rename the output files each time after conversion. Is your program able to help me with this issue?
No problem. It is just a new feature in the V3.1. On the right panel of the main interface, you can find an item called "File name". After your file is loaded, please highlight it in the program. And then, enter the name you want for the final output file in this field and press "Enter" to confirm. After the conversion is done, the content you input for this field will be the title of the output file.


What about if I convert a file into same format several times saving in the same output folder without setting different output names respectively? Will your program just overwrite the previous conversion? It will be nice if it can save the output files in different titles automatically.
It can just do this job. Please open "Tools-Preference" and select "Not Overwrite" there. Generally, it is the default option. For example, if your file is called "movie.3gp" and you want to convert it to AVI format, after the first conversion job, the output file will be named as "movie.avi". If you do the same conversion job again, out program will generate a file, called "movie-0.avi". And also, if you perform a third conversion, the third output file will be "movie-1.avi". It means it will produce files in different titles each time in this way.


Does your v3.1 RM Converter support more input formats? I'd like to know whether I can convert more formats/materials as original one in the new version.
Yes, it provides more input formats. In the new version, APE, CUE and CDA are supported to be decoded, which can not be done in the previous version. Supporting CDA means you can convert Audio CD directly by V3.1.


After the conversion is done, I found that the output file is in such a small resolution. All what I used are default settings. I should be able to adjust resolution. But I can not find such a resolution item on the right panel. Why? And what should I modify?
In the RM converter, resolution is called "Video Size". You can find this item on the right. Different output format may have different default values. For some of them, the default one would be "Auto". You can select a value which has been offered in the drop-list or simply enter a proper number you want directly into.


After the conversion is done, I am not satisfied with the quality of output files. How can I improve it by certain settings?
Generally speaking, the output quality can be improved by modifying "Video Size" and video "Bit Rate". After you highlight the loaded file into the program, you will be able to modify them on the right panel of the main interface. But in certain formats, there would be some limitations. And also, the output files would be in a larger size if you set larger values for these two items.


Screenshots - More Details