Sales Orders Organizer Pro
A simple sales orders processing system for small businesses.
| | | | |
| --- | --- | --- | --- |
| Version: | 1.9 | Publisher: | primasoft.com |
| File Size: | 8.47 MB | System: | Windows 95/98/ME/XP/2000/2003/Vista/NT |
| License: | Free to try ($245.00) | Limitations: | 30-day trial |
| Date Added: | 04-08-2008 | Requirements: | |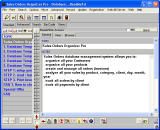 Software Description:
Sales Orders Organizer Pro Sales Orders management system for Windows. A simple sale orders processing system for small businesses. Our sales orders management solution will help you with following activities in your business: Easily manage and track your customer data. Organize your product inventories. Process sales orders, track quotes and shipments. Produce invoices, mailing labels, shipping lists, summary reports. Process and track payments.

Key Features:
Simple, easy-to-use: Ready-to-use database templates and the user-friendly interface let you easily and quickly manage your customers, organize products and services, and process sales orders..
Quickly access your data: You can access and view your databases in virtually any way: table viewer, form viewer integrated with the list view, browser viewer, ..
Easily process data: Report Wizard, Label Wizard, HTML Generator Wizard let you create quality, professionally looking invoices, quotes, packing lists, summary reports, sales reports, balance reports, mailing labels, packing labels, html product catalogs, address labels, barcode labels, reminder letters, and more ....
Learn once use multiple times: You can use application for all your sales orders database needs. There is no limit on the number of databases or records that you would like to use in our database system. Designer allows you to modify our database templates or expand your system with solutions that you are going to create.
Save time organizing your records: Results of time consuming tasks or repetitive processes can be saved into templates for future reuse. e.g.: create templates for the most common sales orders; complex database views save into templates, mailing labels save into templates …
Network supported: you can use our sales orders processing software on a single computer or on the network of computers (multi-user license required).
Editor's Review:
Sales Orders Organizer Pro is a simple sales orders processing system for small businesses. It's a perfect choice for businesses that provide products or services.

User Comments: [ Write a comment for this software ]
No user comments at present!

Related Programs: