Hardware Asset Tracker 3.0 - User Guide and FAQ
Screenshots - More Details

Creating custom field names

Hardware Asset Tracker allows you to change the field names. This is done by selecting "Custom Fields" from the main menu and then "Set Up Custom Field Names". From the Set Field Names window you can change any of the field names to your own designator. When you are finished making changes, select the OK button and the changes will be made throughout the program and printouts. To go back to the original names, select the "Reset to Defaults" button and all of the names will be reset.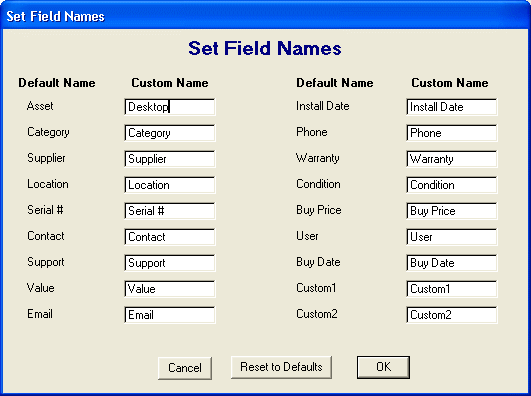 There are some necessary limitations to this feature however. These include:


All of the names must be 9 characters or less. This will allow most names to fit in the space provided under most circumstances. There may be some instances where the name will not fit and the screen text or printout will not look right. The one exception to the rule is the Default Field "Installation" which allows up to 15 characters.
The basic function and structure of the field will not change. For example, Value will still be a monetary field regardless of what you name it.


Screenshots - More Details