Game Speed Adjuster
The game speed adjuster can adjust game speed, accelerate game speed accelerator, change game speed changer, increase game speed, Speed up application.
| | | | |
| --- | --- | --- | --- |
| Version: | 1.0 | Publisher: | pc2download.com |
| File Size: | 483 KB | System: | Windows 98/Me/NT/2000/XP |
| License: | Freeware | Limitations: | Free |
| Date Added: | 04-17-2008 | Requirements: | |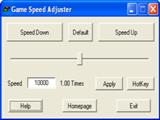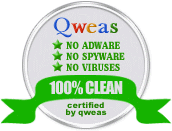 Software Description:
Game Speed Adjuster is a powerful tool to adjust the speed of Windows games and applications. It can speed up games or speed down programs. For some network games, players can get super ability such as running faster, more powerful gun fire if the program changes the game faster. Players could get more reaction time if it makes the game slower.

How to use:

Please launch the program.
Click the Speed Up button to adjust applications or games faster. Click the Speed Down button to change application or games slower. Click the Default button to restore the original speed. Or drag slide bar to change the speed. Or enter the speed value and click the Apply button to adjust the speed. Or press the hot keys to change the speed.
Click the HotKey button to set hot keys if needed. You can use the hot keys in other games or applications without switching the program. In the HotKey Setup dialog box, you may set the hot keys for Show This Window, Hide This Window, Speed Up, Speed Down, Default Speed, 4 custom speed.
Launch the game or application you want to change.
To set the appropriate speed value, you have to test the speed value several times in the game or application until you get the proper value.
Note: For some games, you have to launch Game Speed Adjuster and set the speed value before the game starts. Not all games or applications support the hot keys to change the speed. If the game does not support the hot keys, you have to launch Game Speed Adjuster and set the speed value before the game starts.

Editor's Review:
The game speed adjuster can adjust game speed, accelerate game speed accelerator, change game speed changer, increase game speed, Speed up application

User Comments: [ Write a comment for this software ]
No user comments at present!

Related Programs: