MediaMan 2.50.2 - User Guide and FAQ
Screenshots - More Details

Item Status Management

Managing per-item-status in MediaMan is easy. In some scenario, you lent some of your movies to your friends, you may want to keep tracking of the lent items. You can quickly set the status of an item by using the context menu (right click).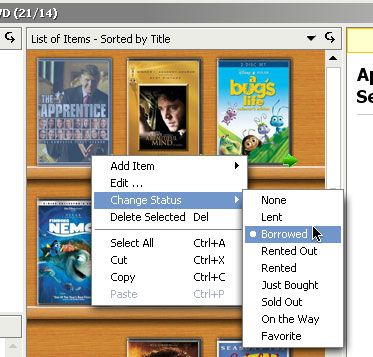 Use the "Edit Item" dialog to manage the details of the status. Double click an item to bring up the "Edit Item" dialog. In the "Basics" page, you can choose a status for the item, just like the context menu way.



Frequently Asked Questions - MediaMan
How many items can be stored in a MediaMan Collection File?

A single MediaMan Collection File can handle up to 2 billion items separated into 30,000 categories. There's no limit on the number of fields on each item record. Each record can associate with up to 30,000 images or binary files, although it's not currently implemented.


What's the format of MediaMan Collection File? Can I have it?

MediaMan Collection File is a private binary file format developed by myself. It's by no means known by a second person, nor am I planning on opening it to the public.


How do I transfer the collection to another computer?

Simply find where your collection file is located, and copy it to another computer.


Screenshots - More Details