MultiTab 2.2 - User Guide and FAQ
Screenshots - More Details

The child should do

The child runs MultiTab using the label on the Windows Desktop.
Then he has to pick up a preferred program that will be run after passing the test. And then he begins to perform examples getting points.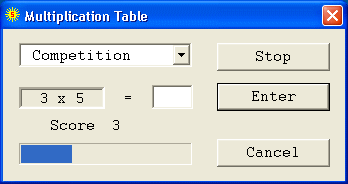 If an answer is wrong the child gets the right answer window that helps him to study mathematic tables.




Frequently Asked Questions - MultiTab
How to begin working with MultiTab?

When you run MultiTab after installation, you see the following:



Invoke the "System Menu" clicking on the icon in the left top corner by left mouse button or on the program title by right mouse button.

Choose "Settings" menu item. You will see the following window:



Push "Add" button and enter your first program that has to be run when the child has passed the test-training process.

The easiest way is to push "..." button first to seek the EXE or PIF file using "Open" standard dialog window. When you find the program, the "Title" edit box will be filled by the name of the program file.


Screenshots - More Details