Guitar Chord Buster Pro - User Guide and FAQ
Screenshots - More Details




To use Guitar Chord Buster Pro for Beginners
People who need to learn to tune the guitar, hold down simple chords and use basic picks to hear the strings.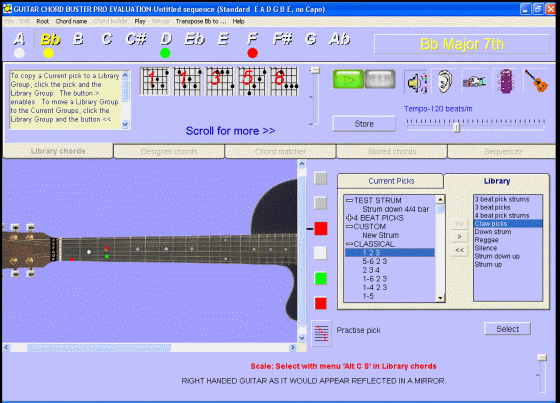 TUNING YOUR GUITAR
Play your real guitar with the Chord Buster guitar. If your guitar is out of tune, you may use the Chord Buster tuner to tune your guitar.


GETTING CHORDS TO PRACTISE
Beginners should stick with the Library chords task by clicking the Library chords tab above the guitar.
Click the green Play button and practice with your real guitar. As you grow more confident, try alternative picks, storing your chord selections, placing them in a sequence and changing the guitar.


GETTING THE SIMPLEST CHORDS AND PICKS
Select the simplest chords for your skill level using the Chord Filter. Show only chords which require one or two fingers and frets.
The default pick is a downward stroke of the strings. You can get other picks and learn them.
You may print the chord pictures or copy and paste them to another program to publish your selections.


Screenshots - More Details