Daily Astrology Explorer
Daily Astrology Explorer is your personal panchaang with the detailed analysis of every moment for you. It has comprehensive charts and predictions that you will find vital.
| | | | |
| --- | --- | --- | --- |
| Version: | 1.0 | Publisher: | itbix.com |
| File Size: | 10.0 MB | System: | Windows ME/XP/Vista |
| License: | Free to try ($11.00) | Limitations: | 45 days free trial |
| Date Added: | 03-13-2008 | Requirements: | |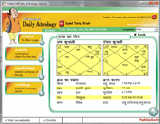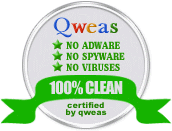 Software Description:

Daily Astrology Explorer is the tool for everyday astrology. Just startup the tool with your day every morning and you will be able to see the major trends for the day, things you should and shouldn't do, and the precautions you should take to make your day better. Based on authentic Vedic astrology, Daily Astrology explorer presents a rich set of charts and predictions that give you a complete astrological overview of your day. Predictions on heads like Journey, Finance, etc. help you make better decisions. Analysis of the Panchaang factors like Tithi, Nakshatra, etc., tell you what is auspicious and inauspicious for the day.

Daily Astrology Explorer gives you accurate Rahukaal, Chogadias etc., for the exact place you are located in so that you won't be misguided. The software also generates the Rashifala (Moon transit result) and generates a number of important charts that come in handy in judging the auspiciousness of a day.

Daily Astrology Explorer's has an easy to use interface that anyone can use without spending time learning, even if you are a novice computer user.

The only software of its kind, Daily Astrology Explorer gives you the power to use Vedic Astrology in your everyday life.


Key Features:

Detailed Panchaang
Daily Astrology Explorer is the complete replacement to the printed Panchaang. It gives you astrological assistance in your day-to-day life.
Full Predictive Analysis
Daily Astrology Explorer has predictive analysis for all the elements of the panchaang, and tells you what this moment is auspicious and inauspicious for.
Yoga Analysis
Daily Astrology Explorer will give you the details of the Panchaang yogas that are formed, and will tell you when important yogas like Panchak, Siddhi, etc., Yogas are formed.
45 Day No Obligations Trial!
The trial version of Daily Astrology Explorer has the complete set of features in the English language. Use it for 45 days, and buy it if you like it. Click here to download.
Complete Charts
Daily Astrology gives you all the charts that you will need to analyse the present moment. It also gives you your birth chart, and the transit (progressed chart) for your horoscope.
Analyze any moment
Unlike a printed Panchaang, the data for Daily Astrology is specific to the moment you select, not just for the day's morning.
100% Easy to use
Point and click interface make using Daily Astrology Explorer very easy. Just feed in your name and use it daily.
World's only Daily Astrology Software
Daily Astrology Explorer is the only astrology software that gives you Panchaang, and day-to-day analysis.
Editor's Review:

Daily Astrology Explorer's has an easy to use interface that anyone can use without spending time learning, even if you are a novice computer user. The only software of its kind, Daily Astrology Explorer gives you the power to use Vedic Astrology in your everyday life


User Comments: [ Write a comment for this software ]
No user comments at present!

Related Programs: