StickyNote 9.0 - User Guide and FAQ
Screenshots - More Details

Start Using StickyNote

There are two ways to begin using StickyNote. The first is through your computer's system tray. The system tray is the little box at the bottom right-hand corner of your screen. When StickyNote is running, you'll see its icon (two yellow notes) appear in your system tray. The picture below shows the StickyNote icon in the system tray, circled.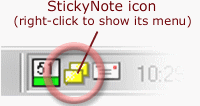 When you right-click the StickyNote icon with your mouse, you will see a menu appear. From this menu you can create new notes, delete existing ones, access StickyNote's options and other features.

The Manager

StickyNote's Manager also offers access to StickyNote's features. You can access the Manager through the system tray menu described above, or through its icon in the StickyNote group in your Windows Start menu. An article on the Manager provides more specific instructions on how the Manager can be used.

Having fun
Here are a few fun things you can try in StickyNote right now:
Click the "minimize" button (the left-most one of the three buttons at the top of this note). Click again to unroll!
Click the "slide" button (the one to the right of the "minimize" button).
Right-click the StickyNote icon in your system tray (the lower-right corner of your screen). There are many tools and utilities there for your notes.
Double-click the title, "Having Fun." Then click the "3D" button, and click "OK". The note is 3D!
Click the StickyNote icon in the upper-left corner of this note. The menu that appears will let you send this note to a friend.
Drag this note around your desktop by clicking the title and holding down the mouse button. Notice it's transparent!


Screenshots - More Details