ImTOO DVD Subtitle Ripper - User Guide and FAQ
Screenshots - More Details

System Requirement:

Intel Pentium 4, Intel Centrino, Intel Xeon, Intel Core™ Duo (or compatible) Processor
Microsoft Windows 2000/2003, Windows XP Service Pack 2, Windows Vista™ (certified for 32-bit editions)
512MB of RAM or more recommended
600MB of available hard-disk space (30MB free space required during installation)
800x600 minimum monitor resolution with 16-bit or better graphics card
DVD-ROM drive


How to rip subtitles from DVD-Video disc, rip subtitle from VOB/SUB files with ImTOO DVD Subtitle Ripper
Step 1: Open DVD
On the main interface, click the "Open DVD" button to add DVD-Video disc or DVD-Video folder into the file list. In addition, by "File>Open DVD... " option, you are also able to add DVD-Video. Meanwhile, you can also add VOB, IDX+SUB file by clicking the "Add Files" button, or choosing the "Add..." option on the "File" menu.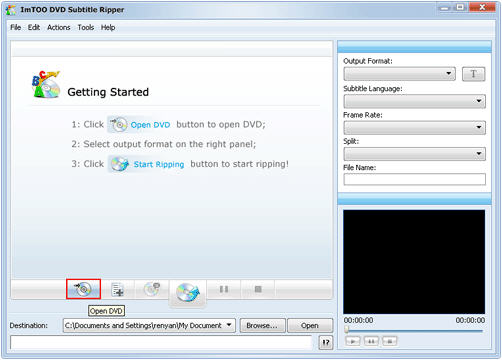 Tip: The files including subtitles in the file list will be checked as default. If you add DVD-Video or VOB file, the main movie title will be checked. If you add IDX+SUB file, the file will be checked.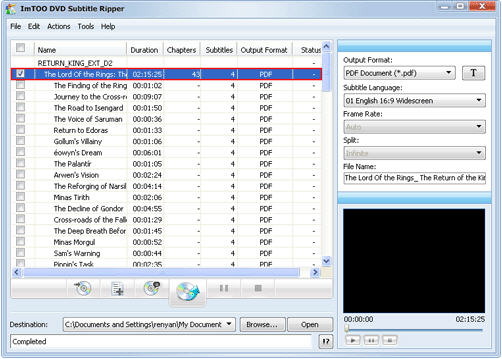 Step 2: Check the file of which you want to rip the subtitle
If you only wish to rip the subtitle of certain portion of the added files, you can re-check the files.

Step 3: Set output destination
Set the path to save the output files. To do this, click "Browse..." button and select the required folder in the dialogue box that appears.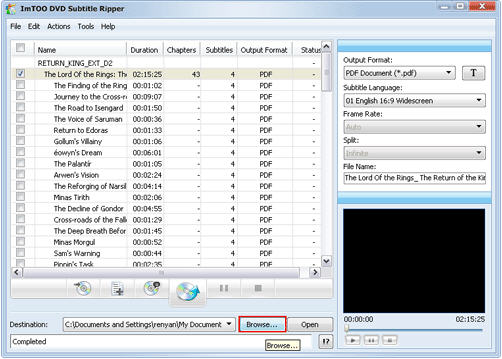 Step 4: Select output format
In the "Output Format " drop-down list, select a required output format.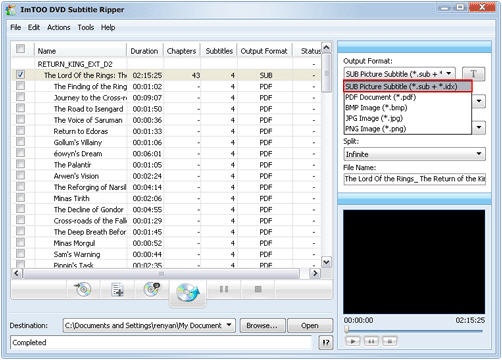 Step 5: Select output language
Select the required output language in the "Subtitle Language" drop-down list on the right main interface.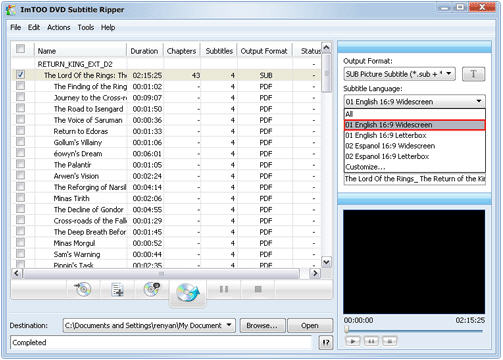 Tip: The drop-down list includes all the language files originated from the added files, where you can select the language you intend to rip. In addition, two more options, "All" and "Customize..." are also for your choice.

Step 6: Set the frame rate, the splitting mode of the output file
Set the required frame rate of the output file in the "Frame Rate" drop-down list on the right main interface. In the same way, you can set splitting mode in the "Split" drop-down list.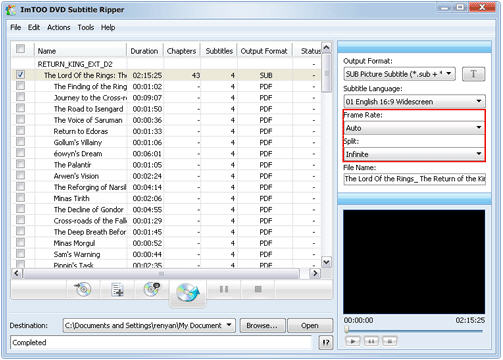 Tip: The "Frame Rate " option, the "Split" option will be available only in the case that the "Output Format" is *.SUB.

Step 7: Name the output file
The software supports to rename the output file. To do this, enter a new name for the output file into the "File Name" edit box.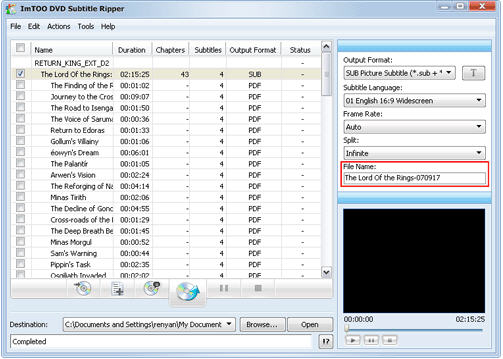 Tip: The software will keep its original name for the output if it is not renamed in this box.

Step 8: Start the ripping
Click the "Start Ripping" button on the main interface to start the ripping of the files checked in the file list.

Tip: During the conversion, you can monitor the conversion progress which will be shown in the "Status" column in the file list.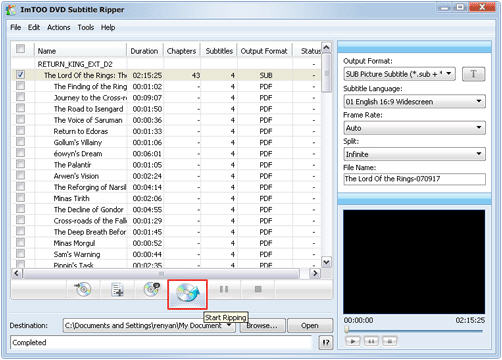 Screenshots - More Details