AnvSoft Flash to 3GP Converter 1.00 - User Guide and FAQ
Screenshots - More Details

What is 3GPP, 3G2 and MPEG-4 file format?
3GPP : GSM Network, Video: MPEG-4, H.263, Audio: AAC, AMR
3G2 : CDMA Network, Video: MPEG-4, h.263, Audio: AAC, AMR, QCELP
MPEG-4 : allows you to optimize every part of the movie, while maintaining compatibility. MPEG-4 contains a wide variety of compression technologies to deliver the best performance for every kind of content.
How to get best quality on cellular phone with 3GP MPEG-4 format?

You can enter your screen size directly to getting best quality for your cellular phone. For example, you want a 220x176 video to play on your Motorola V3 Raza, you should change the default "video codec" (h.263) to "mpeg4", and then set the resolution to 220x176, you get the movie with current resolution, which you want. ANVSOFT Flash to 3GP Converter now supports output file format 3GPP, 3G2 and MPEG-4. The following chart lists recommend settings about "Bit rate, Frame rate" for some cellular phones.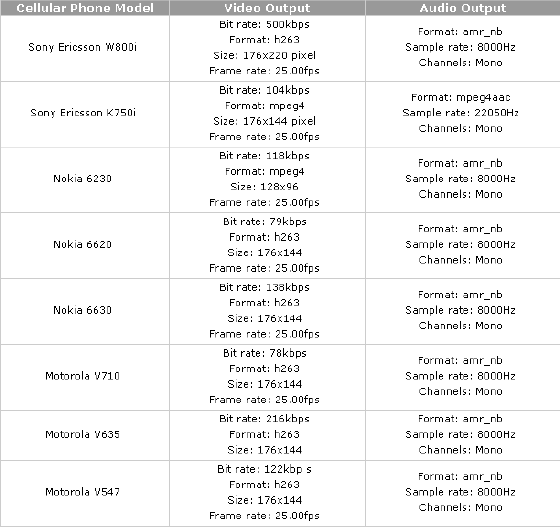 Screenshots - More Details