TV on PC Pro 1.0 - User Guide and FAQs
Screenshots - More Details




Using TV on PC Pro Instructions:
After installing TV on PC Pro, and you run it for the first time it will look like: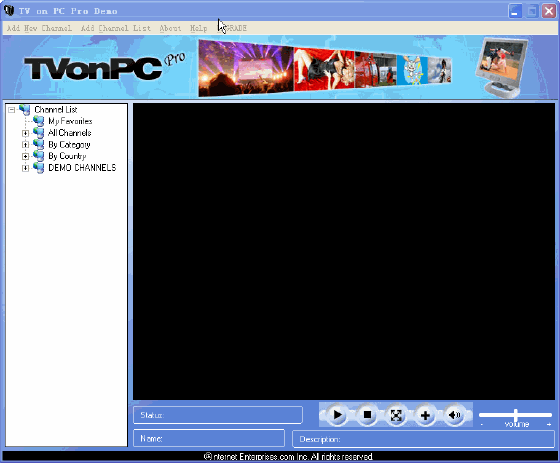 Below is a screenshot of TV on PC Pro explaining it's features: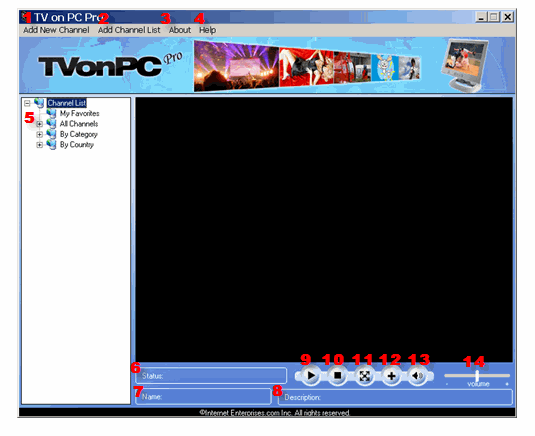 Add New Channel - This feature allows you to add new channels to TVonPCPro.
Add Channel List - This feature allows you to add new channels in list format to TVonPCPro. You channel list must be in text format like: ChannelName;;Description;;URL;;ChannelListName
About - This is just the About tab that gives details of this software.
Help - This brings you to the page you are now viewing :-)
Channel list - This is where you can access all of your TV channels. You can browse channels by All Channels, By Category, or By Country. You will also notice a My Favorites. You can add channels to My Favorites as explained below in more detail.
Status - Most channels need to load a buffer. This will show you the status of your channel loading.
Name - This is the name of the channel.
Description - This is a description of the channel (if available).
Play - This is your channel play button. Simple select a channel and click play. You will notice that when your channel is playing this button will turn into a pause button which allows you to pause your channel.
Stop - This is your channel stop button.
Expand to FullScreen - This allows you to view your video as FullScreen.
Add To My Favorites - Use this button to add the current channel to you My Favorites channel list.
Mute - Use this to must the volume of TVonPCPro.
Volume - This allows you to adjust the volume up or down.
Frequently Asked Questions - Tv on PC Pro
Is TV on PC Pro legal?
Yes, TV on PC Pro is 100% legal to own & watch!


Do I need anything other than the TV on PC Pro software?
No, all you need is an internet connection and our TV on PC Pro software.


Are there any monthly fees?
No, absolutely not! TV on PC Pro is a ONE-TIME cost and you will NEVER be billed again!


When will I receive TV on PC Pro after purchasing?
INSTANTLY! Immediately after ordering you will get instant access where you can download TV on PC Pro. You could be using TV on PC Pro within 2 minutes from now :-)


What countries does TV on PC Pro work in?
Any country! If you have an internet connection, then TV on PC Pro will work for you!


Is submitting an online order secure? Is my information kept private?
Absolutely! When purchasing online using your credit card, all of your information is entered into a SSL secure web page. Your information is then SSL-encrypted and sent directly to our credit card provider's network, where your card and transaction is authorized and approved. Your credit card information is not stored on our servers.


What is your return policy?
Your satisfaction is assured through our no risk, no-questions-asked, no-hassle, 100% money-back guarantee. If for any reason you aren't satisfied with your purchase, just contact us within 8 weeks and we'll refund 100% of your purchase price.


Screenshots - More Details