SWFText 1.2 - User Guide and FAQ
Screenshots - More Details



SWFText
When SWFText is launched, you'll see its user interface as shown below: Part 1 refers to 9 Tabs, each functioning to set specific properties of a Flash movie. Part 2 is a row of command buttons. And Part 3 is Preview Window, used for movie preview.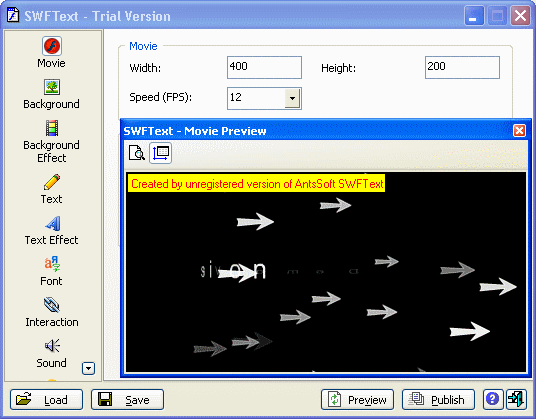 SWFText is so easy to use. To create a satisfactory Flash movie, set effect properties and adjust them according to the movie preview. And then all you need do is to click "Publish" button to save the generated movie.

Now, let's show how to use SWFText step by step.
Step 1: Select "Text" Tab and put in your text in the list.
Step 2: Select "Text Effect" Tab and then choose a text effect in the list.
Step 3: Now you may preview the Flash movie in "Preview Window".

Above are basic steps to use SWFText. Following is a detailed introduction to specific functions.


Frequently Asked Questions - SWFText
There is an advertising banner on each Flash movie I made, how can I remove it?
The banner at the top of the Flash movie only generated with unregistered version of SWFText. It will not be added to Flash movie created by registered version. We offer unconditional 30-days money back to all purchases. If you dislike SWFText after purchase in 30 days, we will issue refund for your payment upon your request.


Screenshots - More Details