You deserve a better browser: Firefox is safer, faster and easier to use than IE. Make the switch today!
Mozilla Firefox is a fast, full-featured Web browser. Firefox includes pop-up blocking, tab-browsing, integrated Google search, simplified privacy controls, a streamlined browser window that shows you more of the page than any other browser and a number of additional features that work with you to help you get the most out of your time online.
Version 3.0.10 fixes security issues and a major stability issue.
Smart Location Bar
A quick way to get to the sites you love—even the ones with addresses you only vaguely remember. The new Firefox 3 location bar learns as you use it—it's so highly evolved that we like to call it the "Awesome Bar". Over time, it adapts to your preferences and offers better fitting matches. Type in a term and the autocomplete function includes possible matching sites from your browsing history, as well as sites you've bookmarked and tagged in a drop down. For example, you could enter the tag: "investments" to find "www.fool.com". Matched terms are highlighted, making the list of results easy to scan.
One-Click Bookmarking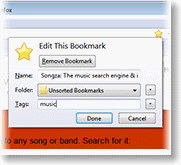 Manage your bookmarks a lot or a little. One click on the star icon at the end of the location bar bookmarks a site. Two clicks and you can choose where to save it and whether to tag it. File bookmarked sites in easy-to-access folders and organize according to theme (like "job search" or "favorite shopping"). Find your bookmarked sites in a flash by entering the tag, page or bookmark name into the location bar. The more you use your tags and bookmark names in the location bar, the more the system will adapt to your preferences.
Add-ons Manager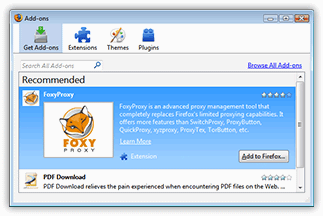 You can now find and install add-ons directly in your browser. You no longer need to visit the add-ons Web site, simply fire up the new Add-ons Manager. Not sure which add-on is right for you? Ratings, recommendations, descriptions and pictures of the add-ons in action help you make your selection. The fully integrated Add-ons Manager even lets you view, manage and disable third-party add-ons in a few easy clicks.
Download Manager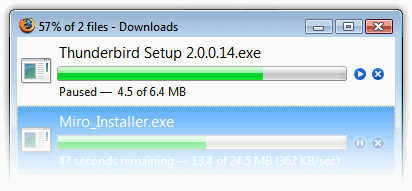 An all new manager lets you download seamlessly, with even greater security. A pause and resume feature means there's no need to wait for a download to finish before you disconnect. So, if you're halfway through the latest White Stripes album and it's time to catch the bus, just pause and pick up downloading when you get home. The resume function also works if your system crashes or is forced to restart. The manager shows your download progress and lets you search your files by name or the Web address where the download came from.