Idea Organizer & Idea Management
With the best Idea Organizer and Idea Management software we recommended to Manage and Organize all your contacts, tasks, appointments, notes, email messages, daily journals, passwords, etc.
Here are the best Idea Organizer.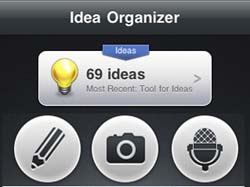 Idea Organizer is a simple yet powerful tool that lets you record your ideas, reminders and notes in whatever form suits you the most - text, photo, voice memo, or a combination of the above. Idea Organizer manages to balance that fine line with ease. The app is designed to make taking notes quick and convenient. Nanaimo Studio knows this can mean different things to different people. So, Idea Organizer lets the user decide how to capture their ideas: text, voice or visual.
Idea Organizer OVERALL FEATURES
* Ability to quickly log a new idea by entering text.
* Ability to log a new idea by taking picture with your phone's camera or selecting existing photo.
* Ability to log a new idea by recording voice memo (iPhone and 2nd Generation iPod Touch)
* One-click access to the most recent idea you entered.
* Ability to reorder your ideas.
* Ability to edit idea text.
* Link and unlink unlimited number of recorded voice memos with your existing ideas.
* Link and unlink up to six photos with any of your ideas.
* Ability to share your recorded text, photo and voice memo via email to anyone without leaving the app.
* Ability to delete all ideas and start over. Idea Organizer Download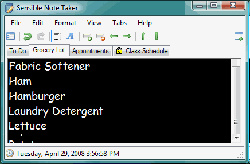 Sensible Note Taker is the perfect program for making lists, jotting down quick thoughts, or keeping important information at your fingertips. Take as many notes as you want and you never have to worry about saving, the program will automatically save your notes for you. Organize your notes into different tabs.

You could have a tab for your grocery list, class notes, todo list, or anything that you need to remember. Sensible Note Taker is packed with features to make your life easier, so try it today. You can configure the program to save backup copies of your notes hourly, daily, or weekly. You can quickly access Sensible Note Taker through a user configurable Hot Key or from the system tray.

Sensible Note Taker Features: Autosave, Autobackup, Quick Access, Find Bar, Replace Bar, Multiple Tabs, Customize Tabs, Tab Sorting, Export Tab, Tab Memory, Hide Tabs, Lock Tabs, Always on top, Online Update. Sensible Note Taker Download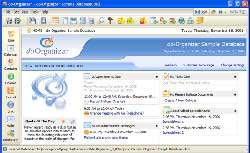 Versatile, elegant, customizable and friendly information management system for private or business use. do-Organizer includes useful tools to improve your experience and qualify you as an achiever. Store valuable information with a versatile, elegant, and customizable data manager. Creatively highlight information with a huge library of quality clipart, icons, and pictures that will enhance every presentation.

Do-Organizer offers an integrated solution for managing and organizing Contacts, Appointments, Tasks, Notes, Daily Journals, Brain Storming, Emails, URLs, Passwords and Planner Events. Do-Organizer makes managing and organizing your daily affairs a breeze. You'll love the innovative ability of the multi-linking functionality in do-Organizer.

do-Organizer is packed with an extensive amount of features enabling you to manage information effectively. You can link a contact to tasks, appointments, notes and many other items in a multidimensional approach - backward and forward. Do-Organizer Download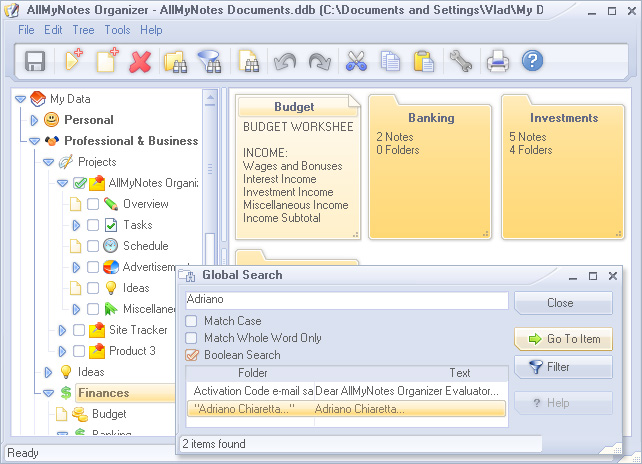 AllMyNotes Organizer is a multi-functional hierarchical information manager for Windows. Store all your Notes in virtual folders in one file! Everyone is unique so AllMyNotes Organizer offers freedom of individualizing your notes in totally customizable tree structure.

All Notes stored in a single AllMyNotes Organizer file and can be grouped into flexible virtual folders enabling easy, intuitive access, and instant search at all times.

AllMyNotes Organizer Ideal for:

* Capturing random information: note taking, diary, thoughts, ideas, letters, links, projects, ideas, goals, events, famous quotes
* Contact information: addresses, phones, call summary, chats.
* Trip information: addresses, hotels, itinerary, car rental, electronic tickets, historic sites, landmarks, walking tours and restaurants
* Financial information, bills, bank account information, investments, taxes, access codes. Encrypt it all to feel safe!
* Password management, etc.
* Shopping: shopping list, prices, coupons, web-pages of online-stores with registration info, discounts and special offers
* Health, food, and dieting, fitness strategy, recipes AllMyNotes Organizer Download
ThoughtOffice is brainstorming and creativity software based on the concept of Associative Thinking. We have combined powerful tools that help you move from any problem or idea to effective and creative solutions, new products and services. ThoughtOffice Innovation Software is the killer app for generating lots of ideas quickly, and expanding on the process of taking an idea from concept to cashflow.

ThoughtOffice provides a powerful Outlining Page with two separate browsers. These questions are arranged in sets of 10-20, based on the process an expert uses to drill-down on a subject, issue, problem or opportunity. A phenomenal way to "get clear" on an issue, and to open your mind to new ideas and processes.
ThoughtOffice is also a great writing tool, presentation software, coaching and consulting app... ThoughtOffice was built to help you develop ideas, get those ideas on paper or into digital form, and share them effectively.

ThoughtOffice is a hybrid of desktop and internet software, and is used by executives, coaches, students, Inc. 500 and Fortune 5,000 organizations to find opportunities, capitalize on their ideas, and solve seriously critical issues. ThoughtOffice Download