OGG Player for Mac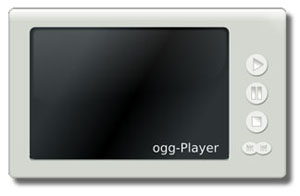 OGG, short for Ogg Vorbis, is a fully open, non-proprietary, general-purpose format for storing compressed digital audio. As with most container formats it encapsulates raw compressed data and allows the interleaving of audio and video data inside a single convient format. In addition to encapsulation and interleave of multiple data streams, Ogg provides packet framing, error detection, and periodic timestamps for seeking, and in a small, bounded percentage bitrate overhead.
Ogg is a stream oriented container, meaning it can be written and read in one pass, making it a natural fit for internet streaming and use in processing pipelines. This stream orientation is the major design difference over other file-based container formats.
OGG was developed by the open source community in response to the license fees being charged for using the MP3 format. Although OGG is relatively new, it is also royalty free. Because of this, it is widely expected that OGG will be quickly adopted by product developers and challenge the dominant positions enjoyed by MP3 and WMA. The Ogg Vorbis libraries are available on all computer platforms as open source. Ogg can be played on your Mac using Ogg Vorbis player software, here are some of the best Ogg players for Mac.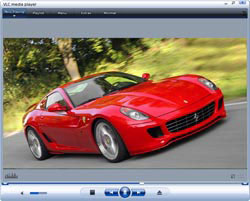 VLC Media Player for Mac is a highly portable multimedia player for various audio and video formats for Mac OS X, including DVD AVI MPEG MPEG2 MPEG4 DivX MP3 OGG, VLC Media Player for Mac is also VCD & DVD Player for Mac, and various streaming protocols.

VLC Media Player for Mac can also function as a streaming media server. VLC Media Player is based on an open-source foundation, therefore, Updates, fixes, and addons are released frequently.
VLC Media Player for Mac is a must-have Mac media player and Mac DVD player for its ability to open just about any type of video file you throw at it. VLC Media Player for Mac Download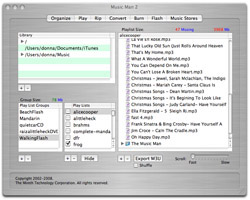 Music Man for Mac - Discover the easy way to rip, convert, burn and play MP3, WAV, unprotected WMA, AAC, M4A, M4B, MP2, Ogg Vorbis, AIFF and midi on Mac OS X. Whether you want to rip, convert, burn or play music, Music Man for Mac is the digital music software for Mac OS X that does it all. Learn more about the software that offers all the features you want in an easy to use music player that also includes ripper, converter and burner features.
Key Features of Music Man for Mac: 1) Play Audio CD, MP2, MP3, WMA, Wav, AAC (M4A, M4B, M4P), Ogg Vorbis, Midi on Mac OS X; 2) Play from your Mac, from CD, From DVD, from Flash Drive; 3) Rip Audio CD to MP3, WMA, AAC (M4A, M4B), MP2, WAV or to Ogg Vorbis; 4) Convert from Audio CD, unprotected AAC (m4a, m4b), MP2, MP3, WAV, unprotected WMA, Ogg Vorbis, AIFF, midi; 5) Convert to Audio CD, AAC, MP2, MP3, WAV, Ogg Vorbis, WMA; 6) Burn music to CD, DVD or USB Flash Drive Memory... Music Man for Mac Download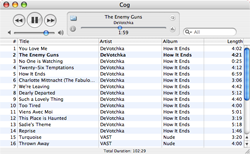 Cog for Mac is an audio player that supports many popular file formats for Mac OS X users, including Ogg Vorbis, Flac, Musepack, Mp3, Shorten, Wavpack, AAC, and Monkeys Audio. Cog for Mac Features include gapless playback, seeking, smart shuffle, and the ability to read unicode tags.
Features of Cog for Mac: 1) General: Gapless playback, Seeking, Automatic updating, Feedback form, File drawer, Preferences, Last.fm support, Growl support, Global hotkeys. 2) Cog for Mac Support Audio & Video Formats: Ogg Vorbis, Mp3, Flac, Musepack, Monkeys Audio, Shorten, Wavpack, AAC, Apple Lossless, Wave/AIFF, Video Game (nsf, gbs, gym, spc, vgm, hes...), Tracker (it, s3m, xm, mod), m3u and pls playlists, Cue sheets. 3) Tags: Vorbis comments, ID3v1.0, 1.1, 2.3+, Flac tags, APEv1 and v2. Cog for Mac Download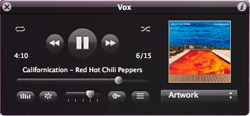 Vox
is a little and simple music player for Mac OS X with support for many file types, including FLAC, MP3, AAC, Musepack, Monkey's Audio,
OGG Vorbis
, Apple Lossless, AIFF, WAV, IT, MOD, XM, Games Music and many others. Includes numerous effects like Equalizer, Reverb, Time Stretch, Pitch Shift, Echo. Moreover, all supported files can be exported to MP3, AAC, WAV and other formats with enabled effects.
Vox for Mac Download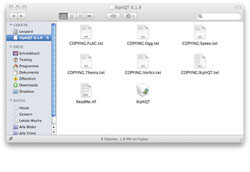 Xiph QuickTime Components (XiphQT) is a set of QuickTime plug-ins that allow iTunes, and other QuickTime-based applications, to play OGG Vorbis files.

If you are an end user: installing XiphQT components is all you need to start using Xiph-formatted media files in a variety of applications - for example, listening to Ogg/Vorbis files in QuickTime Player or iTunes. The programming interfaces used in XiphQT allow the provided functionality to be available transparently to all media handling applications using QuickTime or OS X component mechanisms.
If you are a programmer, you have built a Macintosh Core Audio or QuickTime-based application and would like to add Xiph formats support: most of the time there is hardly anything you will need to do to add support. XiphQT Download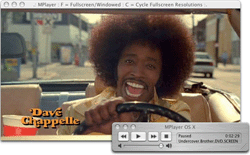 MPlayer OSX is project based on MPlayer (The Movie Player for Linux) port to Mac OS X platform. MPlayer OSX consist of compiled binaries of mplayer and mencoder, separate GUI for mencoder and standalone Cocoa player application based on mplayer binaries.

MPlayer OSX impresses by playing virtually any video file type. These include MPEG/VOB, AVI, Ogg/OGM, VIVO, ASF/WMA/WMV, QT/MOV/MP4, RealMedia, Matroska, NUT, NuppelVideo, FLI, YUV4MPEG, FILM, RoQ and PVA files. It also supports many native, XAnim, and Win32 DLL codecs, and enables you to watch VideoCD, SVCD, DVD, 3ivx, DivX 3/4/5 and even WMV movies. MPlayer OSX Download