MDF to ISO Converter Software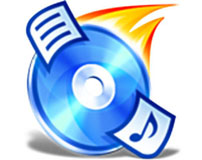 What is MDF? An MDF is an archive file that is an exact copy of a larger image file like a CD or DVD. As opposed to ZIP files, MDF files are not compressed, and retain the exact size and properties of the original file.
What is ISO? An ISO image (.iso) is an informal term for a disk image of an ISO 9660 file system. More loosely, it refers to a group of files, including all of their structures, properties and attributes, bundled together is a single .iso file. This makes the .iso file an attractive alternative to physical media (eg CDs) for the distribution of software.
MDF to ISO. ISO files are similar to MDF files because they are archive files as well, but they are more versatile. Converting to an ISO file will allow your file to be used in more programs, and it requires little time to do.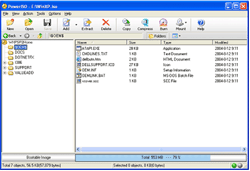 PowerISO is a powerful CD/DVD image file processing tool, which allows you to open, extract, create, edit, compress, encrypt, split and convert ISO files, and mount these files with internal virtual drive. PowerISO can process almost all CD-ROM image files including ISO and BIN. PowerISO can be used easily, which support shell integration, context menu, drag and drop, clipboard copy paste.
PowerISO supports almost all CD/DVD-ROM image file formats (ISO, BIN, NRG, CDI, DAA and so on). Features include: Create ISO file from hard disk files or CD/DVD-ROM; Edit an existing ISO file directly; Convert image files between ISO/BIN and other formats; Make bootable ISO file; Make floppy disk image file; Optimize files to save disk space while saving ISO file... PowerISO Download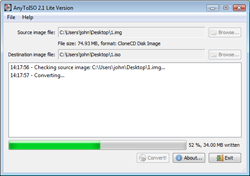 AnyToISO Converter - Convert various CD/DVD-ROM images to ISO format. IMG is a CloneCD disc image file. AnyToISO Converter For windows can convert img to iso. Besides it also support most popular images to iso. AnyToISO Converter For windows can convert bin to iso, convert mdf to iso, convert uif to iso, convert pdi to iso, convert cdi to iso, convert nrg to iso, convert b51 to iso, convert deb to iso, convert dmg to iso.

AnyToISO Converter For windows supports all CD/DVD formats popular in Internet. Most CD/DVD burning software works with ISO images and its native images only. Use AnyToISO for conversion before burning. With AnyToISO you can mount any CD/DVD image found in Internet to your Parallels/VMWare virtual machine. The program can also convert BIN, MDF, UIF, PDI, CDI, NRG, B5I, IMG, DEB, DMG CD/DVD-ROM images to ISO, Extract DMG files, read all features and supported formats. AnyToISO Converter For windows Download
UltraISO Premium is a powerful and easy-to-use utility that can extract, create, edit, convert, and burn CD/DVD image files. UltraISO Premium can directly edit ISO files, make images from CD/DVD-ROMs, or build new one from files and folders on your computer. You have the option to make the newly created image bootable and to specify the boot loader.

In addition, UltraISO Premium can convert nearly all known data CD/DVD image formats to ISO, BIN/CUE, Nero (.NRG) or CloneCD (.CCD/.IMG/.SUB) format. UltraISO Premium can be used as CD image extractor/creator/editor/converter with CD burning software and virtial CD drive program (works like WinISO, but more stable). You can also make menu driven, multiboot CDs and DVDs with add-on tools. UltraISO Premium Download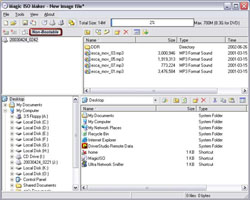 Magic ISO Maker is a powerful CD/DVD image file creating/editing/extracting tool. Magic ISO Maker can open / create / edit /extract CD/DVD image files, and Magic ISO Maker can convert bin to iso and back. as well as make ISO file from DVD/CD-ROM or hard disk, and handle bootable information at meanwhile.

Magic ISO Maker is CD/DVD image utility that can extract, edit, create and burn ISO files. It can also convert BIN or any other format file created by CD burning software (Such as Nero-Burning ROM, Easy CD Create) or virtual DVD/CD-ROM driver software (such as Daemon-tools) to standard ISO format.
Magic ISO Maker can convert ISO to DVD. It has ability to create ISO image file, it also supports the making of bootable CD and DVD image files... Magic ISO Maker Download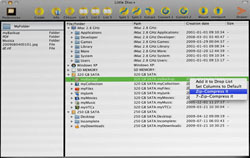 With help of more than several command-line tools, Little Disc Plus allows users to convert, extract, make, split disc images. Little Disc+ is also capable of handling archives with extensions of .7z, .tar, .zip, .bz2, .rpm, .tgz, .gz, .rar.
Features include: Compression: CDR, DMG, IMG, ISO, SPARSEBUNDLE, SPARSEIMAGE, 7Z, BZ, BZ2, CPIO, GZ, ZIP, TAR; Conversion from: BIN, CDR, DAA, DMG, GBI, IMG, ISO, MDF, NRG, c13=SPARSEBUNDLE, SPARSEIMAGE, TOAST, UIF; Conversion to: BIN, DAA, DMG, IMG, ISO, SPARSEBUNDLE, SPARSEIMAGE; Decompression: 7Z, BZ, BZ2, GZ, RAR, RPM, ZIP, TAR. Little Disc Plus Download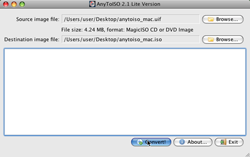 AnyToISO Converter for Mac - Convert various CD/DVD-ROM images to ISO format for Mac OS X. IMG is a CloneCD disc image file. AnyToISO Converter For Mac can convert img to iso. Besides it also support most popular images to iso. AnyToISO Converter For Mac can convert BIN, MDF, UIF, PDI, CDI, NRG, B51, DEB, DMG to iso.

AnyToISO for mac supports all CD/DVD formats popular in Internet. Most CD/DVD burning software works with ISO images and its native images only. Use AnyToISO for conversion before burning. With AnyToISO you can mount any CD/DVD image found in Internet to your Parallels/VMWare virtual machine. It can also extract dmg files, read all features and supported formats. AnyToISO Converter For Mac Download


More AVI Players and Codecs Recommends and Downloads:

ISOpen - open and extract the files contained in ISO, BIN/CUE, IMG/CCD, NRG, CIF, MDF... Burn all your image files to cd or dvd without preliminary conversion... Download Now
MagicDisc - a very helpful utility designed for creating and managing virtual CD drives and CD/DVD discs. For anyone who deals with CD-based programs - MagicDisc is a MUST. Download Now
IZArc - with IZArc you can open CD image files like ISO, BIN, CDI and NRG. It is also possible to convert such files from one type to another (BIN to ISO, NRG to ISO...) Download Now
ImTOO ISO Burner - an easy-to-use ISO burning program. It can burn ISO file and other image files including BIN/CUE, IMG, MDF, NRG, CDI, B5i, B6i, and DMG..Download Now
MakBit Virtual CD/DVD - a powerful utility for creating and managing virtual CD/DVD ROM drives. All file formats are supported: ISO, UDF, IMG, MDF, VCD... Download Now
Gizmo Drive - a virtual device simulator which allows you to create password protected hard disk images with its proprietary GDRIVE format. Download Now