Music Management Software Reviews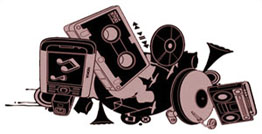 Do you have a large music library but can't find the songs you're looking for? To solve such problems, you need a music management software. Music management softwares are created to help you collect, organize and play music files inside your computer. They also offers superior customization for serious audiophiles.
Apart from organizing and playing digital music and video, some music management softwares are also capable of editing song-file data, ripping and burning your favorite music CDs, synchronizing music to iPods, iPhones and other portable devices... Just to name a few.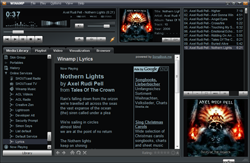 Winamp is a free multimedia player made by Nullsoft. Winamp player supports numerous audio and video formats. Winamp also plays streamed video and audio content, both live and recorded, authored worldwide. Winamp has an extremely customizable media library, and allows you to rip and burn your favorite music CDs.

Winamp has thousands of skins and plug-ins that allow you to change the look-and-feel of the Winamp player, as well as add new features. Winamp player also has access to thousands of free songs, videos and online radio stations from SHOUTcast Radio and AOL Radio with XM. Winamp Download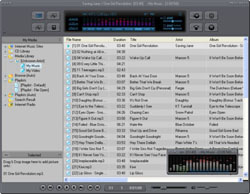 JetAudio Basic 8.0 is an integrated multimedia software. During installation, you have to be careful if you don't want to set JetAudio Basic as the default application for audio and video files. JetAudio Basic not only does it play various music files but also has other major features such as music CD burning, recording of music files, conversion to other file mode, etc.

JetAudio Basic 8.0 has improved ID3 TAG, skin, MPC MOV and m3u playback to name a few and jetCast provides users with new options for Queue-up and Port-forwarding.You can broadcast your own music through internet in MP3, OGG or WMA with jetCast!jetCast mixes music and microphone input, and send it to listener through internet. JetAudio Basic Download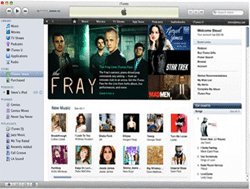 Apple iTunes organizes and plays your digital music and video on your computer. Apple iTunes syncs all your media with your iPod, iPhone, and Apple TV. And it's a store on your computer, iPod touch, iPhone, and Apple TV that has everything you need to be entertained. Anywhere. Anytime.

When you want to watch or listen to something, you no longer have to look through your CDs or flip through channels - just go to your computer and open iTunes. With your entire media collection in your iTunes library, you can browse everything faster, organize it all easier, and play anything whenever the mood strikes.
iTunes Store over 11 million high-quality, DRM-free songs. Visit the iTunes Store on your computer, iPhone, iPod touch, or Apple TV. Browse around and have a listen. Preview a song before you buy it and get recommendations based on music you love. And that's just music. Apple iTunes Download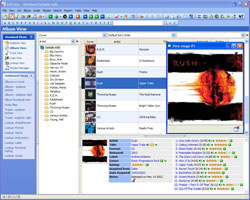 CATraxx is a powerful music organizer database which will help you catalog a music collection of any kind, from vinyl records to CDs to MP3s. Automatically download CD data from the Internet, or scan your hard drive for audio files. A comprehensive set a data fields enables you to keep track of a wide range of information: artist, album title, media format, release year, label, catalog number, purchase price, current value, music category, playing time, song titles, songwriters, producers, recording studios, musicians and instruments, etc. With CATraxx, you are in control of your music collection.
Features include: 1) No need to use two separate programs to manage both your CD collection and your audio files. With CATraxx you can catalog all media types, including CDs, LPs, cassettes, mini discs, and audio files; 2) Automatically download CD data from the CDDB database; 3) Scan your hard drive for audio files (MP3, WMA, OGG, FLAC and more) and automatically add them to your database; 4) Powerful explorer module that allows you to search and browse your database in a familiar browser interface. 5) Multiple customizable data views allowing you to easily locate and edit data... CATraxx Download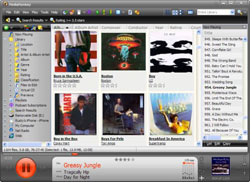 MediaMonkey is an easy-to-use music manager / jukebox for serious music collectors and iPod users. It catalogs your CDs, AAC (M4A/M4P/M4B), OGG, WMA, MPC, FLAC, APE, WAV and MP3 audio files, including contemporary & Classical music, audiobooks, Podcasts, etc.

MediaMonkey offers an intelligent tag editor which looks up missing Album Art and track information via Freedb and the web, and an automated file and directory renamer to organize your music library.

MediaMonkey syncs your tracks, playlists, and podcasts to portable audio devices such as iPods, MP3 Phones, and other devices, and supports hundreds of scripts, plug-ins and visualizations to extend its functionality further. MediaMonkey Download




Songbird is an open-source customizable music player that's under active development. The goal of this project is to create a non-proprietary, cross platform, extensible tool that will help enable new ways to playback, manage, and discover music.
Features include: 1) Media Importing /Exporting: Add media to Songbird by importing from your file system or iTunes. 2) Library Files Organization: Automatically organize the files contained in your library. 3) Watch Folders: Automatically import media from a defined folder. 4) Library Management: Browse, organize, sort and search your media. 5) Smart Playlists: Create dynamic playlists that automatically update based on criteria you set. 6) Album Artwork: Display the currently playing track's album art and write new artwork back to the file. 7) Media Playback: Songbird supports MP3, FLAC, and Vorbis on all platforms; WMA and WMA DRM on Windows; and AAC and Fairplay on Windows and Mac... Songbird Download


More Music Management Software Recommends and Downloads:

Ashampoo Music Studio - a favorite of digital music fans, it includes everything you need to create, edit and manage your digital music collection. Download Now
Music Manager - automatically sort music and organize music. Manage, sort and organize music by genre, organize music by artist, by album, by title... Download Now
AllMySongs Database - a music library for managing and catalogin music files and AudioCD. Supports MP3, WMA, OGG, WAV e.t.c music files formats. Download Now
MP3 Music Organizer Pro - organize your MP3 music by artist, organize MP3 by genre, by artist - or any other way you prefer.
.Download Now
Melomania - catalog music collection of any kind, from vinyls to MP3s, and provides you with a quantity of facilities to manage music database... Download Now
Audio Catalog - the fast and comfortable editor of tags; The 'FileName to Tag' utility; Bathch file renamer; Support on-line-database CDDB. Download Now