About Qweas.com
Qweas.com is a website of Qweas Internet Technology Ltd ("Qweas") located at No 27, Shangdi East Road, Beijing, China PRC.

WHAT IS "QWEAS"?
"QWEAS" is the five characters located at the left-top corner of your keyboard like the following picture shows:



And "QWEAS" also stands for "Quick", "Easy", "Search".

QWEAS LOGO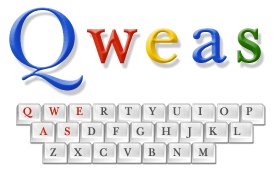 QWEAS MISSION
Qweas's mission is to organize the world's software information and make it universally accessible and useful.

QWEAS SEARCH
From Qweas search service, users can search, compare, and download software they wanted from our software databases. The search engine will search from many fields, calculate all products' scores and sort according to the scores.

QWEAS DOWNLOAD
In Qweas company, there are many editors testing, reviewing, comparing, rating, and publishing software submitted by their developers world wide. Some of these submitted software would be published on download directory with fair descriptions and reviews. Users can navigate our download directory to select and download these useful software.

QWEAS DIRECTORY
Qweas directory lists many excellent software websites.

QWEAS DEVELOPER CENTER
From Qweas Developer Center, developers can submit their products to us for testing and publishing on our website.

QWEAS STORE
If you want to order software from Qweas website, or if you want to find a discount price, you may visit Qweas online store.

QWEAS SERVICES
Qweas also offer some services for an affordable fee based on time or cost, these services include complete testing, website design, interfaces design, logo/icon/button design, web hosting, data/file hosting, etc.