Get Buttons - Qweas.com
You are welcome to link to us, and you may select one of the following buttons and place it on your website based on the condition that you must not modify any port of the buttons. You may right click on the button and click the menu item "Save As..." to save it to your PC, or you may use the link directly.

Developers whose software products are reviewed by Qweas can get award images.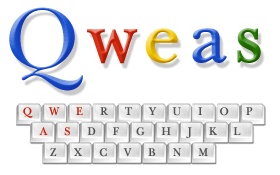 Link: http://www.qweas.com/images/logo/qweas.jpg
Size: 280 X 175


---

Link: http://www.qweas.com/images/logo/qweas-80.gif
Size: 224 X 80


---

Link: http://www.qweas.com/images/logo/qweas-60.gif
Size: 168 X 60


---


Link: http://www.qweas.com/images/logo/qweas-2.gif
Size: 140 X 50


---


Link: http://www.qweas.com/images/logo/qweas-3.gif
Size: 93 X 31


---

Link: http://www.qweas.com/images/logo/qweas-5.gif
Size: 88 X 31


---


Link: http://www.qweas.com/images/logo/qweas-4.gif
Size: 70 X 25