Anti Tracks 5.5.4 - User Guide and FAQ
Screenshots - More Details

How to configure Mail and News options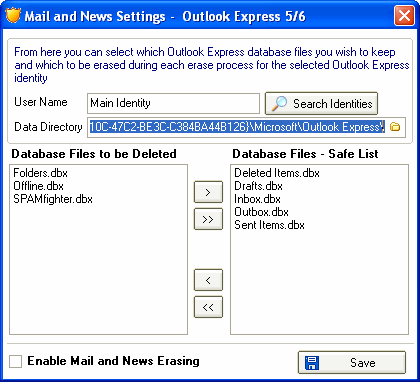 Configure Anti Tracks - Mail and News options to erase your Outlook Express mail and news history.


Click on Search Identities to start searching for Outlook Express Identities on your PC.


Anti Tracks Mail and News Settings will automatically detect your default Outlook Express Identity and locate all database files related to the default identity on your hard disk. By default for safety reasons Anti Tracks will move the (Inbox - Draft - Outbox - SentItems - Deleted Items) database files to mail and news settings (Database Files - Safe List) column. You can move those database files to the (Database Files to be Deleted) column at any time, so they can be included in all Anti Tracks erase process.


If Search Identities found more than one identity on your hard disk, you will see a message asking you if you would like to view them and select another identity other than the default to be saved as the default identity for all Anti Tracks erase process.


Now you can manage which database files to be included in each erase process and which will not be erased.


In order to activate the mail and news erase for the selected Outlook Express identity during each erase process, please select the (Enable Mail and News Erasing) field.


Click save to save your mail and news settings.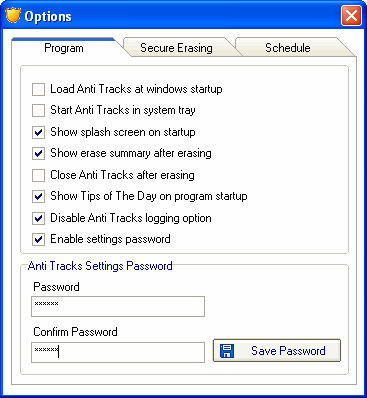 From this window you can protect your Anti Tracks settings with a password. After you enable password protection, Anti Tracks will require the password to access all settings options.


Frequently Asked Questions - Anti Tracks
Does Anti Tracks erase system files or program files?
It depends.
Anti Tracks won't erase those system files or program files unless you add them to the "Custom Erasing" window. Even when you do add them, Anti Tracks will still pop up a warning message before adding those files, offering you second thought.


Why do I still see some browser history even after erasing?
If some of your browser windows are running, some tracks can't be erased, since they are presently being used by your browser windows.

It is strongly recommended that you should shut down the browser windows, which you want to erase the history of, before starting erasing.


Why "search files history" is still there even after erasing?
Some of the Windows erasing tasks do not take effect unless restarting your computer. If you can still see your Windows search files history, please restart your machine after erasing in order for the erase process to take effect.


Screenshots - More Details