Internet Password Recovery Toolbox
Internet Password Recovery Toolbox comprehensive solution for recovering Internet Explorer, Outlook Express, Outlook, network, and dial-up passwords.
| | | | |
| --- | --- | --- | --- |
| Version: | 1.3.0.2 | Publisher: | rixler.com |
| File Size: | 856 Kb | System: | Win98/ME/NT /2000/XP/2003 |
| License: | Free to try ($49.95) | Limitations: | limited |
| Date Added: | 03-05-2008 | Requirements: | |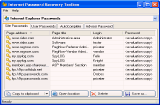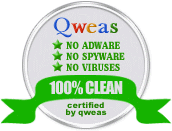 Software Description:
Passwords get easily lost and forgotten. After all, it's a part of human nature. Luckily, there are multiple software applications that can recover lost passwords. However, most of these applications are very narrowly specialized – network password recovery, Internet password recovery, e-mail password recovery and so on. Why purchase all these applications separately and overpay, when there is one solution that can do it all for less then fifty dollars?

Internet Password Recovery Toolbox can recover passwords that fall into any one of four categories – Internet Explorer Passwords, Outlook Express Passwords, Outlook Passwords, Network and Dial-Up Passwords.

Key Features:

Browsing through and deleting passwords for protected sites, user passwords for HTML forms (form passwords), autocomplete strings and Content Advisor Password stored by Internet Explorer.
Transferring the Internet Explorer passwords and autocomplete data strings from one system to another.
Displays logins and passwords for ALL the e-mail and newsgroups accounts of Outlook Express as well as "Identity passwords".
Displays logins and passwords for ALL the e-mail accounts of MS Outlook (all versions up to MS Outlook 2003 are supported).
Displays logins and passwords to access Internet, LAN or other computers.
Displays the network and dial-up passwords for ALL users of Windows NT / 2000 / XP.
Allows to set the access password to prevent unauthorized program execution.
Stores retrieved information in a formatted text file.
Allows to copy recovered passwords to clipboard.
Easy and user-friendly interface.
Editor's Review:
Internet Password Recovery Toolbox can recover passwords that fall into any one of four categories – Internet Explorer Passwords, Outlook Express Passwords, Outlook Passwords, Network and Dial-Up Passwords.

User Comments: [ Write a comment for this software ]
No user comments at present!

Related Programs: