MP3 CD Extractor 1.06 - User Guide and FAQ
Screenshots - More Details

Make your own MP3 or WAV from audio CD is very simple with MP3 CD Extractor.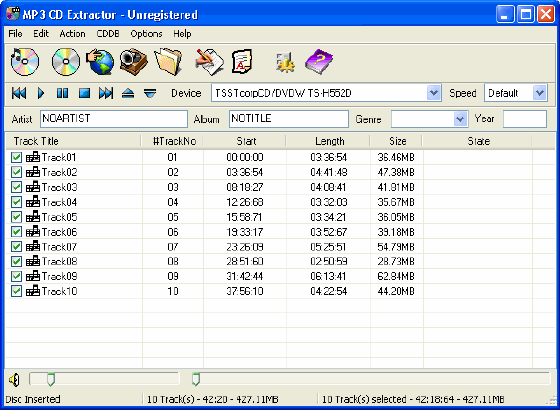 Insert your audio CD into CD-ROM.
Select which tracks you want to extract and encode by clicking the little box before track title in the main window list.
Click the extract button, the speed button in the toolbar, or select menu item [Action]->[Extract Track(s)] or right-click menu item [Extract Track(s)], this operation will start up the audio data extraction. By default MP3 CD Extractor will extract audio tracks to .MP3 files, you can change the output file format from [Options]->[Configuration] "Output" options page.

If you setting "Auto PlayList Creation" when the tracks you selected were extracted and encoded one by one, a dialog will be shown, from which you can create a winamp/sonique (.PLS or .M3U) playlist or just close the dialog.
Open the output dialog by clicking the last button in the toolbar or menu item [Action]->[Open Output Folder], which is set to the \output by default, you will find the MP3s created by MP3 CD Extractor, which are named with the track titles.
Frequently Asked Questions - MP3 CD Extractor
Your CD-ROM doesn't support audio data extraction. MP3 CD Extractor Online Help
In this case, MP3 CD Extractor can't work at present. You can try other software, which support analog access method if you can play your CD with the sound card.


The default CD-ROM type was set incorrect and doesn't accord with your CD-ROM.
The default CD-ROM type was set to GENERIC. You can change the CD-ROM type by clicking menu item [Edit]->[Options] and the CD-ROM page to select another CD-ROM type and have a try.


Some sectors of your CD were damaged.
In order to keep perfect quality copies of the original music, MP3 CD Extractor will stop extracting when meet error sectors and tried several times. You can clean your CD and try again.


Screenshots - More Details