Year of the Slots 5.14 - User Guide and FAQ
Screenshots - More Details


Gambling your wins

Any time you get a win in a game, you are able to double or quadruple your total win. After your win, press GAMBLE and the following screen will appear: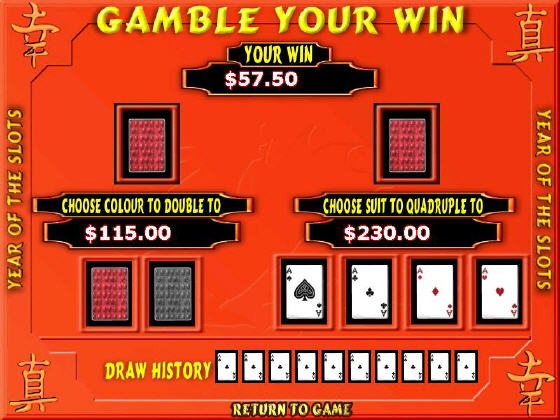 At the top of the screen, the game shows your current wins, in this case $57.50. To double the win to $115.00, click on the red or the black card at the bottom left. The game will then draw an ace of Hearts, Diamonds, Clubs or Spades. If you choose red or black correctly your win is doubled.

To quadruple your win you can select the suit of the card directly from the lower right side of the screen. If you choose the correct suit you collect four times your original stake.

You can double or quadruple any win up to five times. You can leave the gamble screen at any time by pressing Return to Game at the bottom of the screen.

A draw history is shown at all times at the bottom of the double up screen. It shows the last 10 cards draw in order.

The Golden Bamboo Feature

If you get three or more scattered Golden Dogs (these symbols can appear anywhere, they don't have to appear in a row) you win FREE SPINS! You can win up to 50 free games, depending on how many scattered dogs appear. I win 12 free games this time!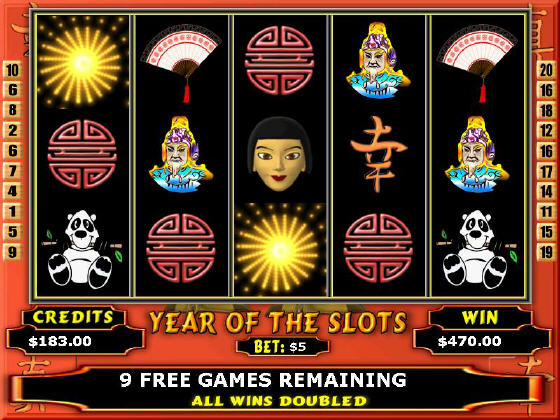 While the free games are playing some special Golden Bamboo symbols will appear at random during each spin. After each spin the Golden Bamboo symbols will all change to another symbol and any new wins will be paid out.


Frequently Asked Questions - Year of the Slots
Do I need an Internet connection?
You do not need an internet connection for the trial games. You do need to have an Internet connection for the full versions. When you buy a game, you are issued a registration/license code. When you enter it into your game to register, your game will temporarily use the Internet to validate the registration. This takes only a few seconds and is only required once (unless you upgrade your game or computer).


Can I lose money playing these games?
No. They are strictly for fun.


Screenshots - More Details