FotoBalloon Pro 3.1.0.4 - User Guide and FAQ
Screenshots - More Details




FotoBalloon Pro

Throughout this help system, menu commands are presented as a sequence of names in the menu hierarchy. For example, we shall write File>Open the target folder to indicate the highlighted command shown below: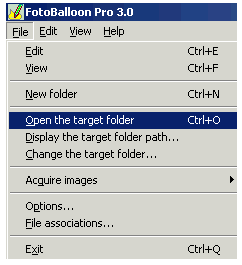 Frequently Asked Questions - FotoBalloon Pro
How can you easily identify people on a family or a class photo? How can you add comments to a picture while preserving the original image?

By annotating your pictures with FotoBalloon! This innovative software can add customizable text captions and notes in any of your pictures. Unique feature: these dynamic annotations can be displayed or hidden anytime without leaving a trace in your original images. Once included in each image, you can easily display your comments in a variety of ways: one after another, all at a time, etc.

You can tailor the look and feel of your notes. The fonts, colors, borders, alignment, and placement of each annotation are easy to adjust. FotoBalloon also makes it easy to import, view, organize, edit, print, and share your images.

Whether you're a scientific person who needs to add information to images, or a home user who wants to add notes to vacation pictures without damaging the original photos, FotoBalloon has the tools that you need.


How about two versions of FotoBalloon?

There are two versions of FotoBalloon: FotoBalloon Standard and FotoBalloon Pro. With Pro Version, you can of course annotate images. Moreover, you can retouch them, enhance them and apply various filters (rotation, add borders, soften filter, anti-dust, comic strip effect, photocopy, artificial snow, and drop shadow...). This version also features a CD creation wizard which will help you to create auto-bootable CD-ROMs of your annotated images. These CD-ROMs will contain your images and a special version of FotoBalloon to view them anywhere, without additional download or installation. These CDs are completely standalone and freely redistributable.


Screenshots - More Details