Email Search Crawler
Email Search Crawler is a quick and efficient tool that searches the Internet or your computer for E-mail addresses to enable create mass Email lists.
| | | | |
| --- | --- | --- | --- |
| Version: | 2.7 | Publisher: | godsw.com |
| File Size: | 1.88 MB | System: | Win 98/ME/NT4/2000/2003/XP/Vista |
| License: | Free to try ($34.95) | Limitations: | 15 days free trial |
| Date Added: | 07-15-2008 | Requirements: | |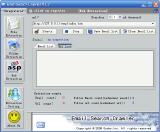 Software Description:
Email Search Crawler Automatically search web sites for emails. Simply provide a starting web site or starting keywords and let Email Search Crawler do the rest. Email Search Crawler will crawl the web site and collect all email addresses it finds.Specify the web sites you want to visit to allow Email Search Crawler to stay on top of your goal or block web sites you don't want it to visit. Merge email addresses from multiple source files, removing duplicates. Export email addresses gathered using the most suitable delimiter.

You can start a search from any user specific Web address URL too. It does not depend upon any additional software the way that many email extractors depend on Internet Explorer. It can crawl Web pages and move from one page to another according to the links within it.All Email addresses are kept in a database and can be extracted to a text file.Low memory use means you can let the spider run while minimized and not interfere with your other applications.

Key Features:
Defeats "email protection" scripts that attempt to hide email addresses from email spiders!
Fully automated email and website harvesting!
Extract emails from a starting web site
Spider web to find e-mail from any specified start website (URL).
Scans up to 10 webpages simultaneously! web connections after 10 seconds and moves on to the next website!
Database integration for easy sorting, exporting, and protecting your data!
Automatically prevents collection of duplicate emails!
Automated searching lets you enter multiple search terms and automatically skip to the next search after a specified number of websites have been scanned!
Displays statistics of all pages scanned, websites found, and emails found!
Stop and Resume scanning with the click of a button, you can even resume after shutting down the program!
Auto-Saves all emails, websites, statistics and settings! Never lose data, even if your computer crashes!
Runs indefinitely with no user interaction.
Low memory use means you can let the spider run while minimized and not interfere with your other applications!
Editor's Review:
Email Search Crawler is a quick and efficient tool that searches the Internet or your computer for E-mail addresses to enable create mass Email lists.

User Comments: [ Write a comment for this software ]
No user comments at present!

Related Programs: