MaxBulk Mailer
A bulk mailer and mail-merge software for Mac and Windows that allows you to send out customized press releases, prices lists, newsletters and any kind of text or HTML documents to your customers or contacts.
| | | | |
| --- | --- | --- | --- |
| Version: | 5.6.3 | Publisher: | maxprog.com |
| File Size: | 3,917 KB | System: | Windows 2000/XP/2003/Vista, Mac OS X |
| License: | Free to try($59.90) | Limitations: | 30 days trial |
| Date Added: | 12-03-2007 | Requirements: | 25 Mb Hard Disk |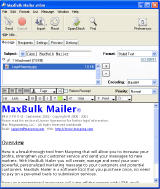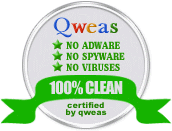 Software Description:
Email Marketing is spreading around the whole world because of its high effectiveness, speed and low cost. If you want to introduce and sell your product or service, the best way is to use e-mail to contact your targeted customer. Targeted e-mail is no doubt very effective. If you can introduce your product or service through email directly to the customers who are interested in them, this will bring your business a better chance of success.

Maxprog has created the ultimate tool for all of your email marketing needs. MaxBulk Mailer is a bulk emailer that allows you to design and send professional looking emails to your customers and prospects for as little as fractions of a penny, directly from your own desktop.

Here is a breakthrough tool from Maxprog that will allow you to increase your profits, strengthen your customer service and send your messages to new markets. You'll be able to reach everyone in your database without worrying about integration or compatibility issues.

MaxBulk Mailer is a full-featured bulk emailer and mail-merge tool for Macintosh and Windows that allows you to send out customized press releases, prices lists and any kind of text or HTML documents to your customers. MaxBulk Mailer is fast, fully customizable and very easy to use. MaxBulk Mailer handles plain text, HTML and styled text documents and gives full support for attachments. Take a look at the screenshots.

With MaxBulk Mailer you will create, manage and send your own powerful, personalized marketing message to your customers and potential customers. MaxBulk Mailer is a software tool that you purchase once, no need to pay on a per-email basis to submission services.

Key Features:
Send Text/HTML in a way client always shows the right format.
Drag and drop support for mailing text and address list.
Easy import/export address list files easy to use functions.
Advanced parser and duplicates checking, also from clipboard.
Powerful tools in order to rewrap and justify text.
Preview function to check document appearance before sending.
Full support for international characters (36 different encodings).
Multiple customizable easy-to-use mail accounts.
Permanent X-Mailer SMTP Header to avoid spamming uses.
Attachment support. (Base64, UUEncode, BinHex, AppleSingle and AppleDouble)
Complete SMTP/POP connection log.
Full POP, APOP and ESMTP Authentication.
E-mails can be sent all at once, grouped or using mail-merge tags.
Custom tags for mail-merge.
Mail scheduling (Mail delayed delivery).
Editor's Review:
MaxBulk Mailer is a full-featured and easy-to-use bulk mailer and mail-merge software for Macintosh and Windows that allows you to send out customized press releases, prices lists, newsletters and any kind of text or HTML documents to your customers or contacts.

User Comments: [ Write a comment for this software ]
No user comments at present!

Related Programs: