Shozam Web Gallery Generator Express Edition 1.0
Generate full-featured Web galleries (complete with slideshow and background music) to showcase images, video and audio online.
| | | | |
| --- | --- | --- | --- |
| Version: | 1.0 | Publisher: | shozam.com |
| File Size: | 2.01 MB | System: | Windows XP/2000/Vista |
| License: | Free to try ($49.95) | Limitations: | limited |
| Date Added: | 01-18-2008 | Requirements: | 35 MB free disk space |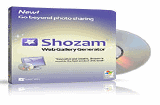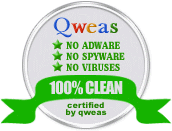 Software Description:
Generate full-featured Web galleries to showcase images, video and audio online. Add captions and long descriptions. Shozam Web Gallery Generator is fast and easy to use. Shozam Express Edition comes with a Personal Use license. A software tool, not a Web service, Shozam galleries are "portable" among PCs, Web hosts and social networks. This flexibility provides offline -- and online -- immediacy and impact.

Galleries, complete with slideshow and background music, can be created and updated offline, moved easily from Web host to Web host, or even burned to CD and shared with friends and family on the spot. To extend online presence on photo-blogs and social networks, Shozam widgets extend gallery reach to other Web sites and social networks, and provide an eye-catching, sticky method for grabbing attention.

Users can get their own high-end results at a fraction of the time and cost of using Web design services. Galleries with thousands of images can be generated in minutes, not months. Gallery themes feature a Flash animated intro and standard static HTML code.

Key Features:

Fast and easy gallery creation: use default settings to create a professional gallery in minutes, or use advanced features for optimal customization.
Professional design for a fraction of the cost: get high-end results without contracting design services. Update and maintain your own Web gallery. Web designers can now automate the process of creating galleries for clients without repetitive, painstaking, time-consuming work.
Offline immediacy and impact: make a gallery to share with family, friends, clients and event participants on the spot. Create now, upload later.
Make money from your images and your site: sell your images with PayPal, include Google ads on your site, help search engines find you with metatags.
You're in control: how your images are compressed and protected…the look and feel of your gallery…where you post it. You decide.
Editor's Review:
The software is suitable for people who want to display photos and images, write captions, and add audio and video

User Comments: [ Write a comment for this software ]
No user comments at present!

Related Programs: