Detailed Description of IMS Telephone On-Hold Player 3.12.1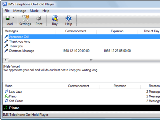 IMS Telephone On-Hold Player is a computer controlled telephone on hold messages and music player for Windows or Mac.

IMS Telephone On-Hold Player mixes and plays messages and music that will play to your callers while they are on-hold or being transferred. The main advantages of using a computer are automation (eg. date sensitive messages) and great user control.

IMS Telephone On-Hold Player is on hold software gives you complete control over your messages. You also have access to state-of-the-art features that have never been available in on hold messaging before. And if a studio produces your messages for you, the presentation can be updated over the Internet.

IMS Telephone On-Hold Player Features:



Real time mixing of on hold messages and music to create an endless presentation.

Message scheduling to commence and expire on certain dates and to play only on certain days of the week or times of day.

Fully digital audio ensuring that your messages sound good, are clear and are easy to listen to.

Large message and music capacity (over 100 track and messages can be stored).

State-of-the-art 'fuzzy logic' formula achieves the optimal message on hold rotation rate.

Direct user control over messages and message scheduling.

The software can be used with professionally recorded messages sent to you by a studio by email, CD or automatic online internet updates.

Messages can also be recorded directly on your computer by plugging in a microphone.

Voice synthesizer function to synthesize speech from text if required.

Works well with almost all telephone systems (PBXs) with message/music on-hold feature, and can also work directly with VoIP phones used in your business (for example the Express Talk VoIP Phone).

Includes generic packages and free music.



IMS Telephone On-Hold Player is designed for:
Win98,WinOther,Win2000,WinXP,WinServer,WinVista,WinVista x64

IMS Telephone On-Hold Player has the following requirements :

Windows XP 2000/2003/Vista/2008 and Windows 7,Mac OS X 10.2 and above.Sound Support,Telephone System