Detailed Description of Springboard 1.03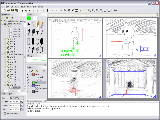 Springboard is a fast, light, easy-to-use Windows application for easily and quickly sketching and annotating your storyboard ideas for film, video, animation, or other dynamic media. Outline your story to organize your work; draw your storyboards with both natural-media and vector tools; import or copy and paste text and graphics from other applications; add annotation layers to show camera moves, special effects, etc.; use a multi-layer model to productively reuse content; easily edit graphics and sounds with external programs if you prefer; record animation and play back as an animatic in real-time; record or import sounds; include fade transitions, layered animation, and camera movement easily; print in a variety of formats; work with feature-length or longer projects; and export to AVI, HTML or sequential image files for review or integration with other applications. Springboard keeps the process simple and organized.

Springboard Key features:

* When you create a new file, you can immediately start drawing storyboard frames.
* Enter text below each frame.
* Add new frames with a keystroke.
* Organize and reorder frames in an outline view with drag-and-drop.
* Use color-coded overlay layers for different kinds of information, like camera motion and character motion.
* Set timing for each frame either numerically or by recording durations interactively.
* Move, resize, rotate, and fade layers to create simple animation within frames.
* Record animation and frame timing interactively, for rapidly adding movement to your animatics.
* Record or import sounds - dialogue, narration, sound effects, music, etc. Tweak and edit them simultaneously in any sound editor.
* Play back your storyboard as an animation in real time, including sounds, fade transitions and smooth camera moves.
* Print your storyboard and text in a wide variety of customizable formats.
* Supports large projects - feature films and longer.
* Export to a Web page



Springboard is designed for:
Win7 x32,Win7 x64,WinVista,WinVista x64,WinXP

Springboard has the following requirements :

Pen input recommended but not required.