JPG to Icon Converter - Convert JPG to icon, JPEG to ico, make icon file easily. It is Free!
Ever wondered how to create an .ico file easily from your own JPG images? Have you made your icon in Photoshop and you still need to use a plugin to save the output in right format? Because Photoshop doesn't have by default the option to save a file in .ico format. Many people have such kind of troubles with using those powful but complex Iocn makers to get an desired icon. But, from now on, you can take it easy! Only FOUR Steps with our free JPG to Icon Converter, you can make your own icon easily and quickly from whatever JPG files you selected.
JPG to Icon Converter is a free and easy-to-use convert JPG image file to .ico file tool to make your own icon files. JPG to Icon Converter is so easy that we don't ever bother to say any more words of detailed guide, and you can learn all once you download and try it. Click here to open JPG to Icon Converter PAD file.
What is .ico file? The ICO file format is an image file format used for icons in Microsoft Windows which represent applications, capabilities, or some other concepts or specific entity with meanings for the user. The icon is selectable, because the ICO files usually contain one or more small images at multiple sizes and colour depths. Icon images could be any size from 1×1 pixel up to 256×256 pixels (including non-square sizes), and 4-, 8-, 16-, 24-, or 32-bit colour depth. Commonly an icon file would contain both 32x32 (for the start menu and folder "large icons" view) and 16x16 (for window title bars, submenus of the start menu and folder small icons, list and details views). Here's the best icon maker software for you to make your own icon!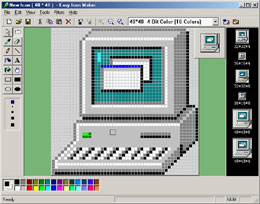 Easy Icon Maker is a small and easy-to-use all-in-one icon utility for icon making, editing, changing, extracting, and searching . It allows you editing a transparent or opaque icon. The sizes may be 16 X 16, 32 X 32, 48 X 48, 64 X 64 or custom it as you like. The colors may be Monochrome(1 bit), 16 colors(4 bits), 256 colors(8 bits) or true colors(24 bits).

With Easy Icon Maker, you may edit your own professional icons easily and quickly with the built-in editor. You may also extract an icon from an EXE or DLL file. You may import graphic file such as BMP, JPG or GIF and save it into icon file or export icon file to graphic file.

Easy Icon Maker has a capture button allows you capturing any area on the screen to the editor for editing. Filters functions allow you processing the icon with special effects such as LIGHTEN, DARKEN, SOFTEN, SHARPEN, and more. Easy Icon Maker new version 5.02 includes three enhanced icon tools: Icon Changer , Icon Searcher , and Icon Extractor . Easy Icon Maker Download