How to Convert DTS WAV to MP3 with DTS to MP3 Converter? What is DTS?

What is DTS?
Digital theater system (DTS) files are designed to work in multichannel surround sound home entertainment systems. Since most computers lack the number of channels needed to properly play a DTS file, there aren't many computer-based media players that will read the files. To use a file captured in DTS WAV format from a DVD in computer-based programs that cannot read DTS, convert it into a more compatible file type, such as MP3.
DTS (also known as Digital Theater System(s)), owned by DTS, Inc. (NASDAQ: DTSI), is a multi-channel digital surround sound format used for both commercial/theatrical and consumer grade applications. It is used for in-movie sound both on film and on DVD, on CD and during the last few years of the Laserdisc format's existence, several releases had DTS soundtracks.

What is MP3?
MPEG-1 Audio Layer 3, more commonly referred to as MP3, is a digital audio encoding format using a form of lossy data compression. It is a common audio format for consumer audio storage, as well as a de facto standard encoding for the transfer and playback of music on digital audio players. MP3's use of a lossy compression algorithm is designed to greatly reduce the amount of data required to represent the audio recording and still sound like a faithful reproduction of the original uncompressed audio for most listeners, but is not considered high fidelity audio by audiophiles. An MP3 file that is created using the mid-range bit rate setting of 128 kbit/s will result in a file that is typically about 1/10th the size of the CD file created from the original audio source. An MP3 file can also be constructed at higher or lower bit rates, with higher or lower resulting quality. The compression works by reducing accuracy of certain parts of sound that are deemed beyond the auditory resolution ability of most people. This method is commonly referred to as perceptual coding. It internally provides a representation of sound within a short term time/frequency analysis window, by using psychoacoustic models to discard or reduce precision of components less audible to human hearing, and recording the remaining information in an efficient manner. This is relatively similar to the principles used by JPEG, an image compression format.
Step by Step Instruction - How to Convert DTS WAVto MP3?
Step1: Launch WAV MP3 Converter
Once the software is installed properly, launch it.
Step2. Choose DTS Files
Click "Add Files" button to choose DTS files and add them to conversion list.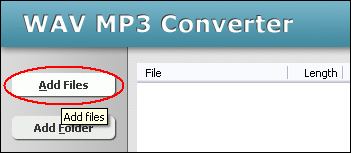 Choose one or more DTS files you want to convert and then click Open.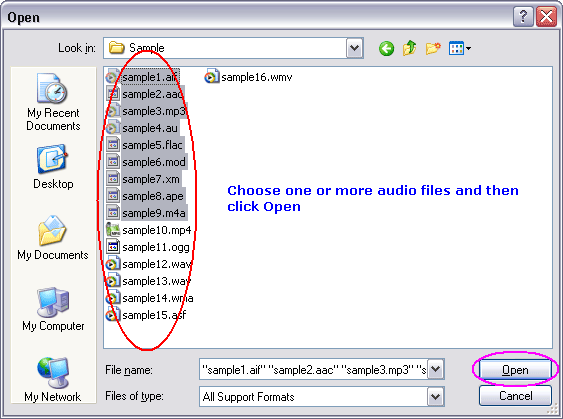 Step3. Choose "to MP3"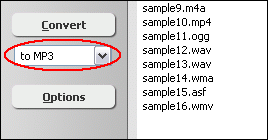 Step4. Convert DTS to MP3
Click "Convert" to convert DTS files to MP3 format.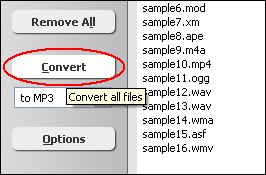 The software is converting DTS files to MP3 format.

Step5. Play & Browse
Right-click converted item and choose "Play Destination" to play the destination file, choose "Browse Destination Folder" to open Windows Explorer to browse the destination file.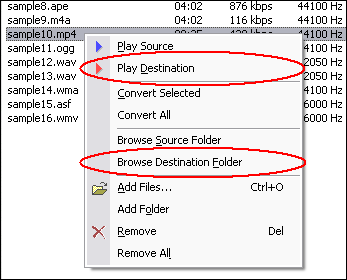 Step6. Done
Related Software Step by Step Guides and Tutorials:
Mac iTunes M4P converter to convert iTunes DRM protected m4p to mp3 aac aiff wav on Mac Guide.
How to convert M4a to MP3, iTunes to MP3 AAC AIFF WAV on Mac?
How to convert DRM protected wma files to MP3 AAC AIFF WAV on Mac?
How to convert MP3 to Ringtone MMF, AMR, WAV, QCP format?
How to convert cd to MMF, MP3, AMR, WAV Ringtone?
How to convert DVD to MP3, WMV, WMA?
How to Record LPs and tapes to MP3, WAV, WMA Or OGG files?