How to convert M2TS to MKV, AVI, MPEG, MP4, MOV, etc?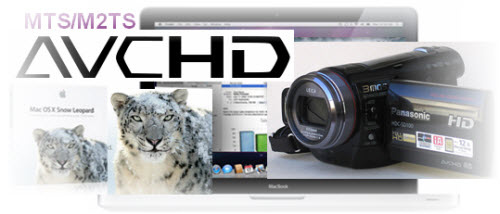 People nowadays like using AVCHD camcorders to record all the precious moments in their lives, like children's childhood, birthday and wedding party,graduation ceremony, all sorts of festivals, etc, so as to keep memory of these special times. However, since MTS/M2TS clips from AVCHD camcorders can't be played by popular players like QuickTime and many other portable devices like iPhone, iPod, BlackBerry, etc, or supported well by some old version video editors, like iMovie, or directly uploaded to video sharing websites, etc. people have to use third party software to convert MTS and M2TS files to other available media formats. In purpose of solving this problem, this post will instruct you how to convert MTS/M2TS files to other popular video formats like AVI, MP4, MOV, MKV, FLV, etc. on Mac OS(Snow Leopard is included) step by step.
What is M2TS? A M2TS file is a Sony high definition video file type. M2TS files are raw AVCHD videos recorded using Sony's camcorders, such as the HDR-SR1 and HDR-SR5 models. Panasonic, Canon and other brands of AVCHD camcorders also record in M2TS format.
Currently, M2TS files can be played using the Picture Motion Browser, which is an application video player provided with Sony AVCHD camcorders. M2TS files can also be played with Mplayer, Windows Media Player and other media players if there is a codec for DVD playing installed. But the file type .M2TS is not always automatically associated with the player, so it may be necessary to open it from the player. That's to say, it's not convenient to play and enjoy your M2TS video.
How to get AVC HD M2TS files off HD Video camera/camcorder?
With AVC HD camcorders, you typically need to connect the HD video camera to your PC using a USB cable. Once connected and powered on, the camcorder should appear on the desktop as a new disk. The location of the films on the camcorders disk will vary depending on manufacturer. It is desirable that you copy the movies to your PC's hard-drive before converting or editing it.
How to Play AVCHD M2TS Files?
Each of the AVCHD camcorders ships with software designed to playback the files on your computer. Sony's HDR-SR1 and the newer HDR-SR5 both record video in the AVCHD format and ship with the Picture Motion Browser, which plays back AVCHD files on most computers. If you purchased one of the Panasonic AVCHD camcorders, the included HD Writer should allow you to playback video recorded with your camcorder.
What software can help us do this?
What software can do this and how to convert M2TS files to AVI, FLV, MP4 and MPEG? To solve these problems, I find a number of M2T converter which can convert M2TS high-definition video formats to popular video formats, such as Pavtube MTS/M2TS Converter. Here I will take Pavtube MTS/M2TS Converter for example to see how to convert M2TS to AVI MP4 WMV, etc.
How to convert M2TS to MKV, AVI, MPEG, MP4, MOV, etc?
Program you need:
Pavtube MTS/M2TS Converter
To convert M2TS to MKV, AVI, MPEG, MP4, MOV, etc follow these steps:
Step1. Input MTS/M2TS files, select output format and specify save path!
You can click on "Add" button to import MTS/M2TS files, or directly drag and drop these files to this program. At the same time, do remember selecting the output format according to your end use of the exported files. For playback on QuickTime Player, you can choose MOV, for playback on iPhone and iPod you can select MP4, etc. Imaging you want to join all the MTS/M2TS files to be a single file, you can check the option "Merge into one file" to realize it.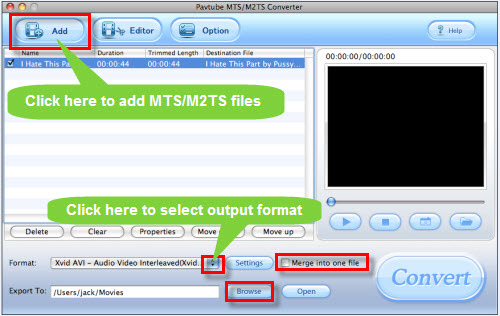 By the way, this program will load the output files to a destination folder set by default automatically, if you want to store the output files in a path specified by yourself, you can click "Browse" to indicate one. No matter which save path you are using, you can find out the converted files by clicking "Open" button.
Step2. Set advanced settings
Pavtube MTS/M2TS Converter allows users to change video and audio parameters like codec, bit rate, frame rate, screen size, etc. Just click on the "Settings" button in the above interface, after that the following window will show up. Just click on the drop-down list of all these options to select the items you preferred, and then click "OK" button to save these settings.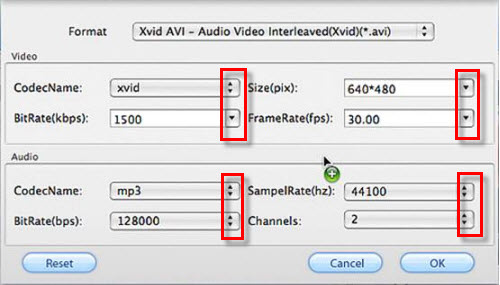 Step3. Convert
As soon as the above two steps are completed, you can press the "Convert" button to start conversion. Conversion info like "Total progress", "Time elapse", "Estimated left", "Generated size" and "Estimated size" are all presented in the following panel. Since that, you can manage your time and HD space properly.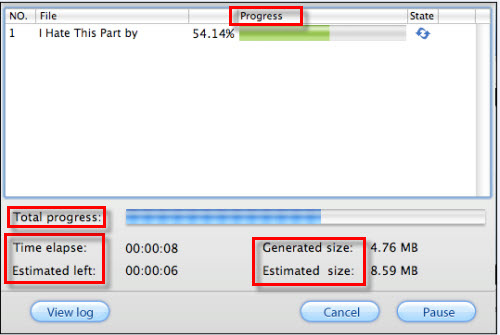 Related Software Step by Step Guides and Tutorials:
How to batch convert MKV video to AVI(DivX, XviD)?
How to convert QT MOV to DivX with Fx MPEG Writer?
How to convert AVI MOV WMV 3GP MP4 VOB MPEG to iPod on Mac?
How to convert MPEG WMV VOB MP4 AVI to iPhone Movies on Mac?
How to Rip IFO, VOB to MP4?
How to convert AVI MPEG WMV MOV VOB ASF 3GP YouTube to BlackBerry AVI?