How to Convert Word2PDF with Word2PDF Converter Software?

Convert Word to PDF
The exchange of documents in the PDF format is a sign of consideration. Converting documents from Microsoft Word to PDF format gives you the ability to email documents to customers in change-protected mode, to replicate presentation materials in printshops without any troubles with missing fonts or broken layouts. Plus, converting documents from Word to PDF allows you to prepare them for archiving.
Universal Document Converter is the most complete solution for the conversion of documents into Adobe PDF or graphical files. The underlying basis of Universal Document Converter is the technology of virtual printing. As a result, converting Word to PDF format is not any more complicated than printing on a desktop printer.

Step by Step Instruction - How to Convert Word to PDF?
Step1: Download and install Universal Document Converter onto your computer.
Step2. Open the document in Microsoft Word and press File->Print... in application main menu.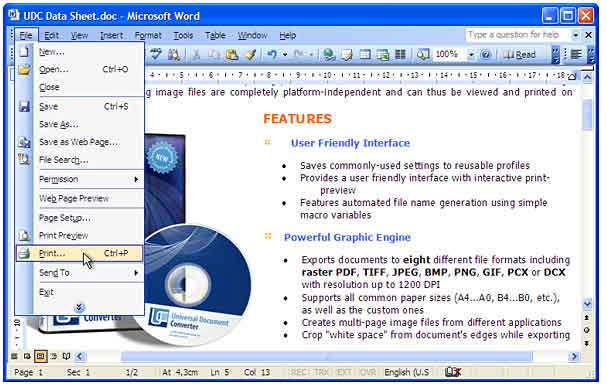 Step3. Select Universal Document Converter from the printers list and press Properties button.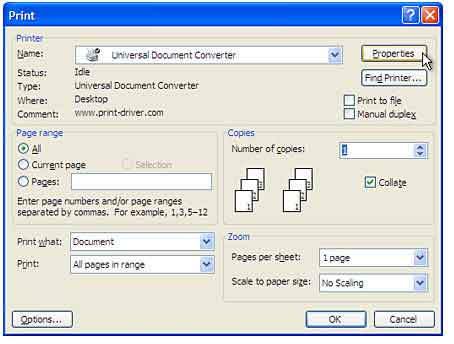 Step4. Select the Document to PDF, Color, Multipage profile in the Universal Document Converter Properties window and press OK.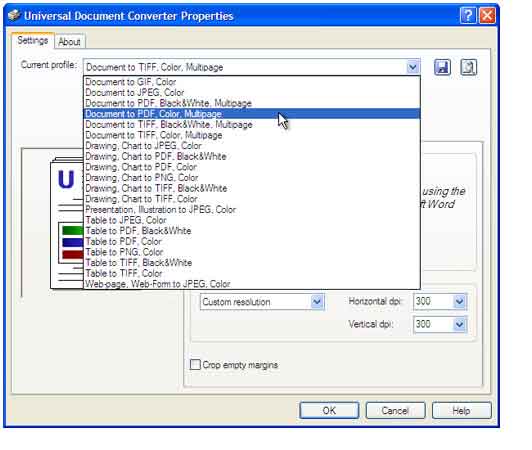 Step5. Press OK in Microsoft Word Print dialog to start converting. When the PDF file is ready, it will be saved to the
C:\UDC Output Files folder by default.


Step6. Converted document will then be opened in Adobe Acrobat or another viewer associated with PDF files on your computer.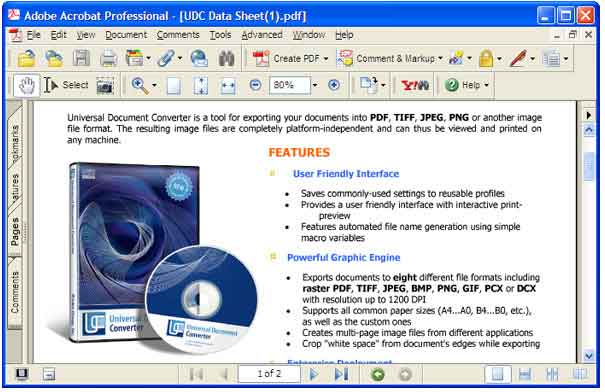 Related Software Step by Step Guides and Tutorials:
How to convert DOCX to DOC with DOCX to DOC converter software?
How to convert CSV to PDF, HTML, DBF, XLS, DOC, MDB, XML, VCS, CHM, RTF, HLP?
How to convert Text to PDF Document?
How to extract image from pdf document?
How to convert PDF to Excel document with PDF to Excel Converter?
How to Convert DOC to CD with AutoPlay Me for Word?
How to convert ps/eps document to Tiff with PS to Tiff Converter?