How to copy PS2 game, Burn PS2 game?
This page will guide you how to copy PS2 game, Burn PS2 game step by step with Blind Write, and play legal backup copies on PS2. The detailed steps are as follows:

Step1. Please download Blind Write, install and run it; you can know more about it by visiting here: http://www.qweas.com/download/video_dvd/dvd_backup/blind_write.htm

Step2. Click the "Copy" button from the left side options. Select the source and set output path.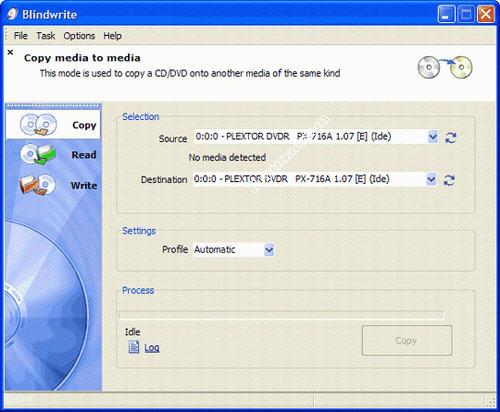 Options explaining

For "Source", The drive containing the disc you want to copy, use the

to select a different drive. While the correct drive is selected, the media information like media type will be displayed under the source selection box. To manually make the software check the drive, press the

button.

For "Destination", this is the writer you want to burn the image with. If you plan to write the image with a different writer, click the first

icon on the right side of the "Destination" box, this will allow you to select a different writer. To chang the writing speed (once media detected), use the

icon on the far right of the "Destination" box to select the desired writing speed.

For "Profile", we recommend to select the "Automatic" option as it will do for all disc types.

For "Log", clicking "Log" will open the BlindWrite log file, you can open the log even if the software is writing a disc.

Step3. Click the "Copy" button (bottom right) to copy a CD/DVD onto another media of the same kind.

Note: There are three modes you can choice: "Copy" (Copy media to media), "Read" (Extract an image from a CD/DVD), and "Write" (Write a HDD image of a CD/DVD). Here I only introduce the "Copy" mode.


Play legal backup copies
In order for your PS2 system to play backup copies, it must be modified to overcome its built-in protection. There are two ways to accomplish this. One is to install a PS2 Mod Chip into your system's console, allowing you to play backup copies of your games. The other is to obtain PS2 boot discs.
PS2 Mod Chips
Installing most PS2 Mod Chips is a complicated procedure that requires you to open your console to solder several wires. If you don't have a background in soldering, hire an experienced electronics professional. If your mod chip is installed wrong, you'll be in the market for a new gaming console.



PS2 Boot Discs
Before inserting your backup copy, place these discs in your PS2 console. This method doesn't require cracking open the console case or soldering wires, and so does not void your warranty.
Related Software Step by Step Guides and Tutorials:
How to convert DVD to PSP MP4 step by step?
How to convert DVD to iPhone Video MP4 step by step?
How to convert DVD to iPhone on Mac OS X step by step?
How to convert movie to PSP MPEG4(MP4) and put movie on your PSP?
How to play DVD on PSP and watch DVD movie on PSP ?
How to copy DVD movies with dvdSanta step by step?
How to rip DVD and put DVD on Zune step by step?
How to convert dvr-ms to PSP movie?