Audio CD Ripper - Rip Audio to MP3, WAV, etc.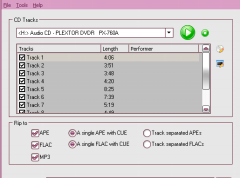 The audio CD format is typically referred to as a CDA file (.cda).
CD audio uses a sample rate of 44.1 kHz and for stereo audio. An audio format is a medium for storing sound and music. It is applied to both the physical recording media and the recording formats of the audio content – in computer science it is often limited to the audio file format, but its wider use usually refers to the physical method used to store the data.Nero CD-ROM inside the production audio is produced in audio cd format.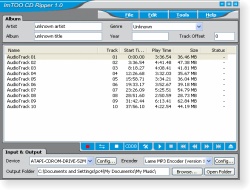 ImTOO CD Ripper is a flexible tool used to extract CD tracks to MP3, WAV, WMA, OGG Vorbis, VQF, APE with ease. Auto-detecting your CD-Rom and auto-listing tracks makes you can rip these tracks by just one click. Support retrieving tracks' information from remote CDDB (CD database) or creating your local CDDB. You can select bitrate from 32Kbps to 320Kbps for MP3 encoder.

ImTOO CD Ripper allows you to edit ID3 tag and add files to M3U/PLS playlist. Embedded CD player can playback CD tracks before ripping. It also provides volume normalization for tracks different volume levels.

Additionally ImTOO CD Ripper is also an audio converter that can convert digital audio formats between MP3, WAV, WMA, OGG, VQF, APE etc. It builds in various audio encoders that ensures you needn't external encoders to support all of these popular formats. Download Free Trial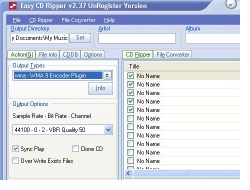 Easy CD Ripper is an all-in-one music tool for ripping and converting. As a piece of famous CD Ripper software, it rips audio CD tracks to audio formats MP3, WAV, WMA, VQF, OGG, APE with excellent output quality and high ripping speed.

It also supports converting MP3, WAV, WMA, APE, VQF, OGG, AAC, MP4 from one format to another. Clone CD into image file bit by bit perfectly.

Besides professional ripping functions, it can clone CD bit by bit perfectly and supports MP3 ID3 V1/V2 editing, Free CDDB Submission, beautiful and changeable skins, professional and user-friend interface, and much more ... Download Free Trial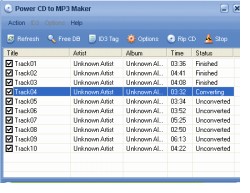 Power CD to MP3 Maker is a powerful and extremely ease-to-use tool for converting audio CD tracks to audio format MP3, WAV, WMA and OGG. It copies the audio digitally with excellent output quality and high speed.
Power CD to MP3 Maker adopts advanced LAME Encoder and OGG codec, allows you to generate various qualities of MP3, WAV, WMA and OGG files. And more, MP3, WMA and OGG Encoder supports CBR (Constant Bit Rate) and VBR (Variable Bit Rate). It supports FreeDB, which downloads CD information such as title, artist, and album from the Internet.With a nice and easy understandable user interface and converting your files just a button click away, you'll be an expert in no time! Meanwhile, you can use it a player.
Download Free Trial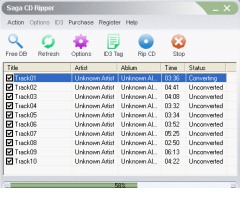 Saga CD Ripper digitally copies audio CD tracks to MP3, WMA, WAV and OGG files with excellent quality and fast speed.

Saga CD Ripper offers rich options and you can set the bitrate and frequency for your special requirements.

It supports FreeDB function, you can get track title, artist, and album information from the Internet CD database.

Saga CD Ripper builds with a small Tag Editor and you can edit the title, artist, album, year, genre and comment information of your created files. Download Free Trial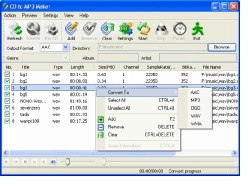 CD to MP3 Maker is an extremely easy to use MP3 to WAV decoder, WAV to MP3 encoder, and CD ripper. It copies the audio digitally-not through the soundcard, which enables you to make perfect copies of the originals. It also helps you to burn your own customized CD from MP3 files.

CD to MP3 Maker supports the free online CD information, by which you can get the CD album, artist, track titles and much more CD information over Internet with just a button clicking Download Free Trial




Related Animation GIF Converter Recommend and Download:

Advanced Audio CD Ripper - a powerful ripping tool with unique Click Noise Removal technology. Download Now
ALO Audio CD Ripper - convert digital audio tracks directly from compact discs to MP3, WMA, OGG and WAV files.Download Now
Audio CD Ripper Pro - allows extracting music tracks from CDs and converting them to MP3, WAV and OGG.Download Now
Audio CD Ripper Plus - rip CDA Tracks from audio CD to MP3, WMA, WAV, OGG and APE audio files.Download Now
Audio CD Ripper OCX - can rip CDA tracks from audio CD to MP3, WMA, WAV, OGG. Download Now
Cool Audio CD Ripper Pro - rips audio CD tracks and save them into audio formats MP3, WAV, WMA Download Now