Audio Sound Recorder - Record Audio Streaming to MP3, WAV, WMA, OGG, etc.
Audio Sound Recorder is a direct and real-time sound recorder software which offers professional recording features with MP3, WMA ,WAV , OGG files and so on.
If you are in doubt about which audio sound recording software is most suitable application for recording to a computer we recommend you download and try them. You don't have to purchase to download and it only takes seconds to download and install each program.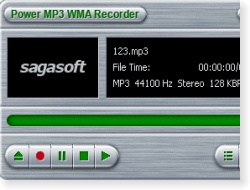 Power MP3 WMA Recorder makes a complete audio recorder studio of your computer. With it you can record audio from microphone, streaming audio from the Internet, music played by Winamp, Windows Media Player, Quick Time, Real Player, Flash, games, or muisc from external such as Turntable, Walkman, Tape Player, DVD, etc.

Power MP3 WMA Recorder supports schedule recording. If you want it to do the recording at a specified time of one day or week, you can make schedule to let it record for you automatically. It is most useful while recording internet streaming audio. There is an audio player built in Power MP3 WMA Recorder and you can use it just as an audio player. What's more, you can edit the id3 information for your files with the ID3-Editor built in this powerful audio recorder. Download Free Trial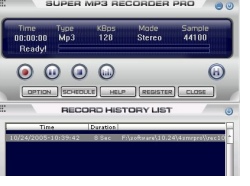 Super Mp3 Recorder Pro can record voice from microphone, internet streaming audio, or music played by Winamp, Windows Media Player, Quick Time, Real Player, Flash, games, etc. The recording voices can be saved as MP3, VQF, WAV, WMA and OGG files.

Super Mp3 Recorder Pro is able to automatically detect the recording formats that your sound card supports and then set the application's parameters for the best possible performance.

With its friendly interface, you will find it is easy to access without any difficulties. Download Free Trial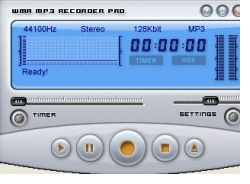 i-Sound WMA/MP3 Recorder turns your computer into complete audio recording studio. You can record music, sound and voice from internal or external sources into MP3, OGG, WMA, WAV, and APE format sound files directly without costing any other disk space.
i-Sound WMA/MP3 Recorder allows you to record music and sound without running out of memory as long as there's enough disk space. By using this windows sound recorder you can record sounds from MIDI, Internet broadcasts, streaming media (e.g. QuickTime Player, Realplayer, Games, DVD Players...) and also your microphone.
Download Free Trial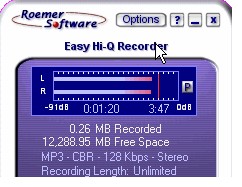 Easy Hi-Q Recorder offers you an easy way to record absolutely any sound in real-time! Record directly to: MP3, (Constant Bitrate: CBR or Variable Bitrate: VBR), WMA 9, (Windows Media Audio 9), WAV or OGG Vorbis. At the high-end you can record to above CD quality 48 kHz stereo and at the low-end you can record all the way down to 8 kHz mono. There is a very wide range of MP3 Bitrates, also for WMA, from 5 to 320 Kbps. The quality is excellent at all settings! Record streaming Internet audio or video broadcasts or webcasts of any kind, whether it's news, sports, music, talk radio or any other format, (records audio only).
Download Free Trial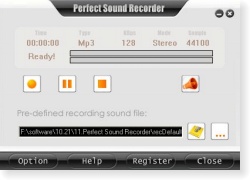 With this sound recorder you can directly digitize recordings of music cassette tapes, streaming Internet audio, vinyl LPs, videos, and meetings directly to your computer's hard disk, creating popular mp3 or wave sound files on the fly.

Perfect Sound Recorder can record from any sound card input line, from microphone, line-in, cassettes, LPs, to CD, DVD, your home stereo or an MD player.What's more, the digital sound recorder can record sound played by other programs (e.g. RealPlayer, Windows Media Player, Quick Time, WinAmp included). Download Free Trial



Related Audio Sound Recorder Recommend and Download:

All Sound Audio Recorder - It can record from Midi, MP3, WAV, WMA, RM, OGG,VQF, CD, DVD, MPEG, AVI, MOV, etc... Download Now
Easy Audio Recorder - a powerful real-time sound recorder software which enable you to recorder from all kinds of audio formats. Download Now
Audio Recorder Pro - an useful audio recording software that lets you record any sounds from your sound card. Download Now
Audio MP3 Sound Recorder - record any audio streaming through your sound card into audio formats MP3 or WAV file. Download
Sound Recorder Pro - the powerful sound recorder and editor, makes a complete recording studio of your computer. Download Now
Super Audio Recorder - Enables you to record sound, played back through your sound card and any other sound sources. Download Now