Burn Audio CD Tracks - Burn audio files MP3, WAV, WMA, OGG etc. to Audio CD Tracks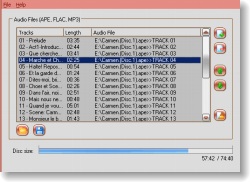 Burning audio CD tracks to files that can be stored on a computer allows a convenient way of playing the track without access to the original CD or even a CD player. This conversion process is generally known as "burning". It has all sorts of advantages. For example, if you want to play an audio track from within a PowerPoint presentation, it is much more convenient to use a file rather than a physical CD.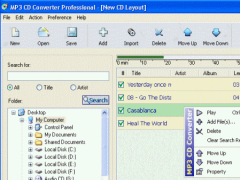 MP3 CD Converter Professional is a CD-burning software that can create conventional Audio CD from your MP3 files. The customized Audio CD can be played with your home Hi-Fi or car CD player. It supports various audio format. such as MP3, WAV, M4A, WMA, MPEG, AVI etc.. MP3 CD Converter Professional can rip your picked audio tracks from several CDs and then put them into one CDR. So you can play your favorite songs without changing the discs.
With normalizing function, the volume level of all tracks in the burned CD can be ensured the same, even the source MP3 files are downloaded from various locations and very different in volume.
MP3 CD Converter Professional burns MP3 to Audio CD on-the-fly, which means no temporary disc space is required and don't need convert the MP3 files to WAV format first, and save the HD's life.Download Free Trial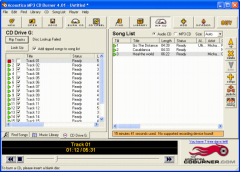 Not only will it burn your music in the order you want it, but it will let you edit each song to get rid of silence, extra long applauses or fade in and out incomplete songs. Boost or EQ each song individually so that you don't have to constantly adjust the volume dial on your stereo.

Burn all the major types of audio files, including MP3, OGG, WMA and WAV. Rip your CDs to make your own MP3, OGG, WMA or WAV. Squeeze 200 songs on a CD or 1000 songs on a DVD. This software was designed to be easy to use to get the job done. Download Free Trial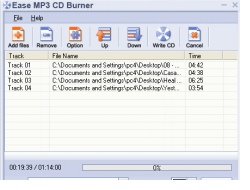 If you want to burn your WAV, MP3, OGG or WMA files to audio CD to play with your CD Player, please try Ease CD Burner. Ease CD Burner burns your WAV, MP3, OGG or WMA files to Audio CD format for normal CD player access.
You can directly burn your WAV, MP3, OGG or WMA files to audio CD, just uncheck 'Cache/Decode Files Locally' on the options windows. Or to check is your audio file is valid file, you can check 'Cache/Decode Files Locally' on the options windows, our software will first convert your audio files to CD quality WAV files- 44100Hz, 16bit, Stereo, if the conversion is successful, Ease CD Burner will then burn the WAV files to your CD, or the burning will be cancel.
Download Free Trial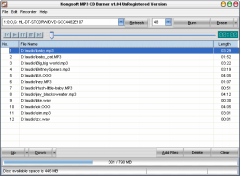 Kongsoft MP3 CD Burner is a simple and easy-to-use CD burning software for Windows. Simply drag and drop the songs you are going to burn onto the main screen, hit the Burn button, and in a short time you will have a custom CD.
With Kongsoft MP3 CD Burner, you can select the burning speed. If you don't know which one you should select, you can use the default. There is no need to convert audio files to WAV. It directly burns normal CD.
Generally speaking, Kongsoft MP3 CD Burner is very useful and very easy to use. It specially fit for novice, because it has not many parameters to select.
Download Free Trial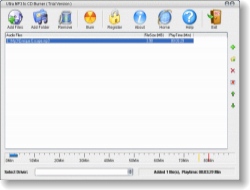 Ultra MP3 to CD Burner is a simple and easy-to-use Music CD burning software for Windows. With this burning program you can create high-quality audio CDs which is playable on your CD stereo.

Ultra MP3 to CD Burner supports MP3 WAV WMA OGG audio format. supports CD-R, CD-RW disc, supports all CDRs. High-Speed burner engine inside and very easy to use. And it supports 650M(74 min),700M(80 min),730M(83 min 36 sec) discs. With this software, you can make your music CDs by youreself. Because it has the easy-to-use GUI. So it is very popular among the CD burner software.Download Free Trial



Related Software Recommend and Download:

Audio CD Burner - You can create your own custom music CDs that can be played in any standard home or car stereo. With Audio CD Burner, you can choose to burn 74 or 80-minute audio CDs on either 74 or 80-minute CD-R/RW discs. Download Now
Free MP3 to CD Converter & Burner - Convert and burn your favorite mp3 to CD, wma to CD, wmv to CD, asf to CD. You can edit ID3 tag of MP3 files for burning audio CD. And also can play the audio files before burning with build-in audio player. Download Now
MP3 WAV to CD Burner - An audio CD burner software .With MP3 WAV to CD Burner you can create high-quality audio CDs which is playable on your CD stereo.MP3 WAV to CD Burner supports MP3 WAV audio format. Download Now
Audiolib MP3 CD Burner - A tool that can create regular audio CDs from your favorite MP3 or wave files. You can then play them in your regular stereo or car CD player. It supports most CDR/RW drives. Download Now
MP3 CD Converter Professional - A CD-burning software that can create conventional Audio CD from your downloaded MP3 collections. The customized Audio CD can be played with your home Hi-Fi or car CD palyer.
Download Now
Audio CD Burner OCX - An ActiveX control for developers. This control can burn audio CDs from MP3, WMA, WAV, OGG, APE audio files. This control works on a low level mode (base on ASPI), and much more...
Download Now