ICO Converter - convert PNG GIF JPG BMP to ICO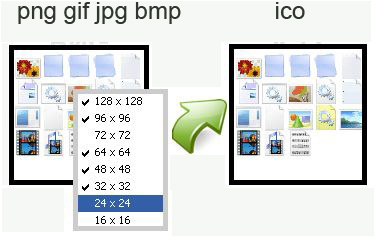 What is ICO? ICO is an image file format used for icons in Microsoft Windows. It is an extension of image format. When you have made an icon, it will be saved as (.*ico).

ICO Converter : It can convert png to ico, gif to ico, jpg to ico, bmp to ico, and the most popular image formats to ico.
ICO converter can convert images of any size, Resize images, crop your images, Change color resolution of your graphics, etc. and make what your desired or fafvourite different ico.

We feel like offering many ICO Converters which have very great powerful funtion. If your have difficulity in getting ico, our software will help you greatly.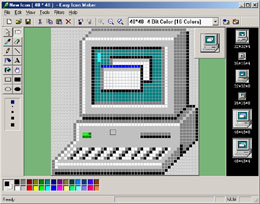 Easy Icon Maker is a small and easy-to-use all-in-one icon utility for icon making, editing, changing, extracting, and searching . It allows you editing a transparent or opaque icon. The sizes may be 16 X 16, 32 X 32, 48 X 48, 64 X 64 or custom it as you like. The colors may be Monochrome(1 bit), 16 colors(4 bits), 256 colors(8 bits) or true colors(24 bits).
With Easy Icon Maker, you may edit your own professional icons easily and quickly with the built-in editor. You may also extract an icon from an EXE or DLL file. You may import graphic file such as BMP, JPG or GIF and save it into icon file or export icon file to graphic file.

Easy Icon Maker has a capture button allows you capturing any area on the screen to the editor for editing. Filters functions allow you processing the icon with special effects such as LIGHTEN, DARKEN, SOFTEN, SHARPEN, and more. Easy Icon Maker new version 5.02 includes three enhanced icon tools: Icon Changer , Icon Searcher , and Icon Extractor . Easy Icon Maker Download
Imagicon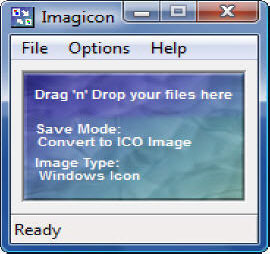 Imagicon is a graphics utility designed to convert multiple image files from BMP, JPG or PNG image formats into any of the following image formats (24-bit): Windows or OS/2 Bitmap (BMP), Independent JPEG Group (JPG), Portable Network Graphics (PNG) and Windows Icon (ICO).
Options are available to transform images and enable alpha transparency of icons. The interface window of Imagicon can be personalized with custom designs. The user can select to save icons with the following dimensions in pixels: 16 x 16, 32 x 32, 48 x 48, 64 x 64 and 128 x 128. Full instructions are included with the software, explaining each of the possible settings and the function that they perform.
Imagicon can offer you a great way of powerful image processing to convert many popular image formats to ico, so it is the very software you just want it . Imagicon Download Site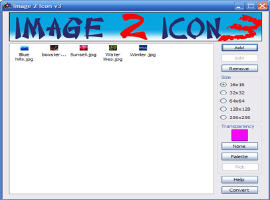 Image 2 Icon Converter can convert image bmp to icon, jpeg to icon, png to icon and convert the most poular image extensions to transparent icons. you can convert more than one file at the same time with Image 2 Icon Converter, you can also, select the transparent color.

Image 2 Icon Converter Key Features:
Convert images bmp to icon, jpeg to icon, png to icon easily.
Has a wonderful interface which is easy to use.
Support 16x16, 32x32, 64x64, 128x128, 256x256 transparent icon size.
Convert more than one image file at the same time.
Image 2 Icon Converter is 100% free.
Image 2 Icon Converter Download Site
Picture To Icon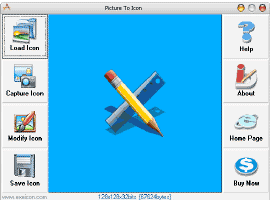 Picture To Icon can convert images or any part on your screen into icons, extract icons from libraries, modify the icon and convert icon to png or bmp .

Picture To Icon converts PNG, BMP, JPEG, GIF, CUR, WMF formats into multi-resolution Windows icons. You can capture your screen part and convert it to icon. You can easily create, edit, read and save icons with transparency. With color similarity adjustment, icon creation is made easy. You can extract icons from Windows resource files such as EXE, DLL, OCX file.

Use this tool, you can convert PNG2ICO, GIF2ICO, JPG2ICO, BMP2ICO, WMF2ICO, SCREEN2ICO, CAPTURE ICON FROM SCREEN and RESIZE ICON. Picture To Icon Download Site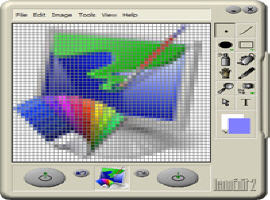 IconEdit2 is a TrueColor Icon Editor for Windows 98/ME/NT4/200x/XP and Vista. It supports ICO, ICL, NIL, EXE, DLL, GIF, TIFF, BMP, JPEG and PNG files for open/extract/convert to icons. Can save your work as TrueColor, 256-color or 16 color ICO (up to 128x128 pixels), as well as GIF, TIFF, BMP, JPEG or PNG files. Allows you to paint, undo/redo, search for icons in your files and capture screen areas. Contains several sample icons.

IconEdit2 provides single-window, user-friendly interface. At the left there is a drawing area. It allows user to draw icon image using different drawing tools.

At right there are tool buttons: Point tool, Line tool, Ellipse tool, Rectangle tool, Spray tool, Fill tool, Search tool, Camera tool, Hand tool, Color thermometer tool, Type text tool, Select tool, etc. IconEdit2 Download Site


More Other ICO Converter Software:

Pop-a-BMP-to-ICO - A simple image converter that was designed to make creating icons easier by converting 32x32 bitmap images into .ICO files.
Download Now
IconCool Manager - Icon extractor, icon library manager and a directory of 800 icon websites. An icon library with dozens of sample entries is included. You can view icons within files and save them in ICO, GIF, JPG, or convert images in 25 formats to icons. Download Now
Image Icon Converter - Not only converts BMP, JPEG, GIF, PNG, TGA, TIF and PCX formats into Windows icons, but also converts icon to bmp, ico, jpg, gif, pcx, png, tga and ras images. Download Now
IconCool Studio - An absolute solution to create, edit, convert, and extract Vista icons and 32-bit icons or cursors. The included Mixer creates custom icons from scratch by multiple layers and a variety of ready-to-use design elements. Download Now
Icon Converter Plus - A powerful package for icon creation, conversion, edit and modification. Make capture from your screen and save into icon or image. Ability to BATCH conversion of Icon to Image and Image to Icon with many filter effects. Download Now
Image2Ico - A powerful and easy-to-use utility for converting images to ico. Main features: - Supports a lot of image formats: bmp, dib, rle, gif, jpg, jpeg, jpe, ico, png, wmf - Supports any icon size 16x16, 32x32, 48x48 - Reads and writes 16 colors, 256 colors, TrueColor and 32bpp (XP-Style) icons - Built-in image processing. Download Now
ABBIcon - Icon Conversion and Management Tool - Extract icons from ico, ani, exe, dll and icl files; Create icons from image files in 24 formats; Export icons to ico, bmp, jpg, png 17 format files.     Download Now
Wise Icon Maker - Create icons, extract, and convert all graphics to 32-bit color depth Icon.Include comprehensive collection of drawing tools and effects.Have anti-alias and smoothness functions and excellent 3D gradient effects.
Download Now