IMG to DVD Burner - burn img to dvd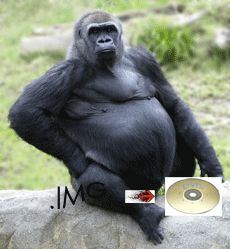 About IMG Files - IMG is an image/iso of a DVD, CD, Floppy. Burn it to a DVD or CD with DVD Decrypter or extract the content with Isobuster or mount it as a virtual DVD/CD unit with Daemon Tools.
Why need IMG to DVD burner? IMG files are raw-data copies of optical media, generated primarily by the Windows application CloneCD, and are primarily used to store CDs with odd properties.
You had an IMG file or download a group of IMG files, but you want to play it on home DVD and share your images formats with your friends on DVD player, Using the IMG to DVD burner software we provided. Opening the file you extract the IMG format and convert it to DVD you wanted. After burn your IMG files to DVD, your IMG files will worke well for playback on dvd player and on computer.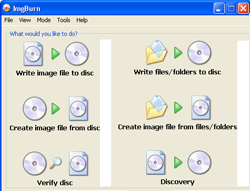 ImgBurn is a lightweight CD / DVD / HD DVD / Blu-ray burning application that everyone should have in their toolkit and it is FREE software! ImgBurn supports a wide range of image file formats - including BIN, CUE, DI, DVD, GI, IMG, ISO, MDS, NRG and PDI. It can burn Audio CD's from any file type supported via DirectShow / ACM - including AAC, APE, FLAC, M4A, MP3, MP4, MPC, OGG, PCM, WAV, WMA and WV. It can also burn IMG to DVD
ImgBurn also supports Unicode folder/file names, so you shouldn't run in to any problems if you're using an international character set. Using ImgBurn,DVD Video discs (from a VIDEO_TS folder), HD DVD Video discs (from a HVDVD_TS folder) and Blu-ray Video discs (from a BDAV / BDMV folder) can be built with ease.
ImgBurn is a very flexible application with several advanced features that are often lacking in other tools, especially when it comes to burning DVD Video discs. It supports all the latest drives without the need for updates. ImgBurn Download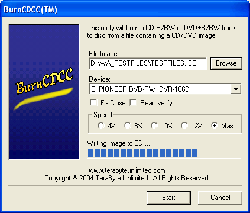 BurnCDCC is a remarkably small utility, that allows you to burn an ISO file to a CD or DVD disc. This can be very useful, if your burner software package does not support burning of .ISO files. This utility works well!
BurnCDCC is used to burn an ISO file to a CD/DVD/BD disc. Many new systems come with a limited CD/DVD software package that lacks the ability to burn ISO files. This usefull application is free, you can use it to convert your img file to ISO, can burn img to CD/DVD. It is not only usefull but very easy to use.
BurnCDCC Download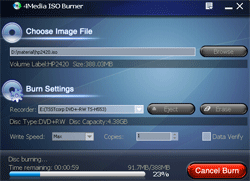 With 4Media ISO Burner, burn ISO file is not a difficult thing. Not only can the ISO Burner tool help you burn ISO file into CD/DVD disc, but also these formats, such as BIN/CUE, IMG, MDF, NRG, CDI, etc., can be burned effortlessly. So it can burn IMG to DVD.
Although the 4Media ISO Burner is very small, it supports many output formats, e.g. CD-R, CD-RW, DVD-R, DVD+R, DVD-RW, DVD+RW, dual-layer DVD. After burning, the program will verify the written data so as to guarantee the information veracity and usability. Own it and experience the high compatibility and fast burning speed.
The smart 4Media ISO Burner tool supports dozens of input formats such as ISO, BIN/CUE, IMG, MDF, NRG, CDI, B5i, B6i, DMG, etc. supports abundant output formats including CD-R, CD-RW, DVD-R, DVD+R, DVD-RW, DVD+RW, DVD+R DL. It also burn ISO file into dual-layer DVD, if the driver permits. 4Media ISO Burner Download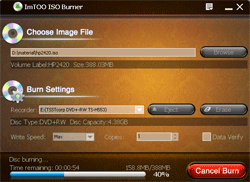 ImTOO ISO Burner is an easy-to-use ISO burning program with intuitive interface. And it can burn ISO, IMG file, etc to CD-R, CD-RW, DVD-R, DVD+R, DVD-RW, DVD+RW and DVD+R DL. The ISO file can be data CD/DVD image, bootable CD/DVD image, media CD/DVD image, and so on.
As a powerful ISO application, ImTOO ISO Burner has the ability to burn ISO file and other image files to CD/DVD disc. It will verify written data after burning process to ensure the usability of the disc content and you can select the written speed to make the burning process much faster. It can burn ISO file and other image files including BIN/CUE, IMG, MDF, NRG, CDI, B5i, B6i, and DMG. It can Burn ISO file to CD-R, CD-RW, DVD-R, DVD+R, DVD-RW, DVD+RW and DVD+R DL. This software support several types of ISO image files: data CD/DVD image, bootable CD/DVD image, media CD/DVD image, and so on. ImTOO ISO Burner Download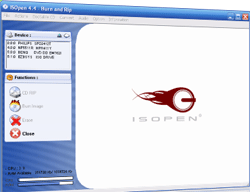 ISOpen is a CDROM image utility.Can Open and Extract the files contained in ISO, BIN/CUE, IMG/CCD, NRG, CIF, MDF, TDCI, C2D, BWI, B5I, VaporCD, PDI, MD1, XA, CMI... images files. Burn all your image files to cd or dvd without preliminary conversion. This useful software can burn ISO to DVD, burn img to DVD, burn CIF to DVD, burn MDF to DVD, burn CCD to DVD, burn NRG to DVD, burn CDI to DVD!

ISOpen can burn your data cd and dvd, audio cd from your mp3, wav, ogg, wma. (TAO, DAO, SAO supported). All you need is a cd or dvd writer. With this software, you can convert of the majority of the format image CD ROM towards the ISO format, NRG or Bin/Cue.

With ISOpen, You will be able to create ISO, Bin/Cue, NRG images of your cd, dvd. Create a backup image of all your cd or dvd. With it, you can create your own images ISO, NRG, Bin/Cue image from files and directories of your hard disk. ISOpen will also enable you to create your AUDIO images CDROM from wav, mp3, wma, ogg vorbis. ISOpen download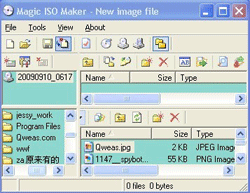 MagicISO Maker is a powerful CD/DVD image file creating/editing/extracting tool. It can open / create / edit /extract CD/DVD image files, and it can convert bin to iso, convert img to iso format, convert iso to bin, etc. as well as make ISO file from DVD/CD-ROM or hard disk, and handle bootable information at meanwhile.
MagicISO is CD/DVD image utility that can extract, edit, create and burn ISO files. ISO file are images (duplicates) of complete CD/DVD disc. containing exact binary copies of the original CDs. Usually, you have to burn an ISO file on a CD to extract its contents, but now you can simply open an ISO file in MagicISO.
MagicISO Maker can convert ISO to DVD. It can also convert BIN or any other format file created by CD burning software (Such as Nero-Burning ROM, Easy CD Create) or virtual DVD/CD-ROM driver software (such as Daemon-tools) to standard ISO format. MagicISO has ability to create ISO image file. You can directly add/delete/rename files or folder in CD image file(s) with MagicISO. MagicISO can handle up to 10G large sizes so that user can extract / edit / open DVD image files in ease. Magic ISO Maker Download
Related to IMG to DVD Burner Software Recommends and Downloads:

Xilisoft ISO Burner - makes it easy to burn ISO to CD, burn ISO to DVD, including data ISO, movie ISO, & bootable ISO image files to CD-R, CD-RW, etc. Download Now
Free ISO Burner - burn your ISO and CD/DVD image file to CD-R,CD-RW, DVD-R and Blu-ray disk. Download Now
ISO Recorder - can burn or write images to CDs and DVDs in window XP or vista. Download Now
UltraISO - an ISO CD/DVD image file creating/editing/converting tool and a bootable CD/DVD maker. Download Now
Total Video2Dvd Author - Convert, Sbutitle, Author and Burn Youtube Flv, Avi, Divx, Xvid, Rm, Rmvb, Wmv, Mpeg Directly to DVD Video Disc. Download Now
Burn My Files CD & DVD Burning Software - Burn a CD or DVD fast with Burn My Files. Download Now