MIDI Software
Pronounced middy, an acronym for musical instrument digital interface, a standard adopted by the electronic music industry for controlling devices, such as synthesizers and sound cards, that emit music. At minimum, a MIDI representation of a sound includes values for the note's pitch, length, and volume. It can also include additional characteristics, such as attack and delay time.

MIDI software - make and Edit midis. MIDI software is one of the most popular software used on net .With midi software , .mid and .kar files for accompaniment, rather than less flexible .wav or .mp3 files, you can customize the music for your singing style, adjusting the tempo, key, instrumentation, and more. Change things in midis to make them perfect for your needs.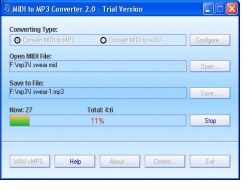 MIDI to MP3 Converter is designed to convert MIDI to MP3 file and convert MIDI to WAV audio file. MIDI to MP3 Converter can also convert WAV to MP3 using a built-in WAV to MP3 Converter included.

MIDI to MP3 Converter has very easy-to-use interface, so that novices can use it within minutes with several clicks. MIDI to MP3 Converter is very small that will not take many computer resources. And the output audio quality is very good. If convert MIDI to MP3 file, you may also configure the output MP3's settings to make a balance between audio quality and file size. Download Free Trial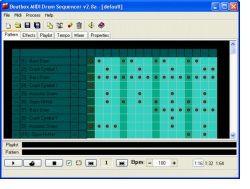 Beatbox MIDI Drum Sequencer is an essentially new version of a drum sequencer from the Midimass Sound Laboratory experts. The MIDI drum sequencer is intended to make professional drum parts the later to be further used without additional changes at the studio of a sound recording company. Beatbox MIDI Drum Sequencer completely meets requirements of musicians as well as sound engineers dealing with MIDI.

Every bit in your score can have its unique volume relatively to the others and convenient mixer allows you to adjust not only general volume of your drums score, but also separate volume of each track. All this provides the professional sounding of a MIDI file.
Download Free Trial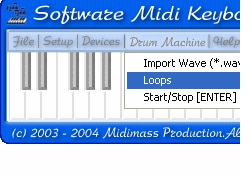 Software Midi Keyboard is great midi piano compatible with all sequencers, soundcards, and synth.
This MIDI keyboard software has two Midi output devices that allow you to record music in external midi sequencer/soft synth and to hear another voice in your desktop speakers, simultaneously! In Software Midi Keyboard built-in wave drum machine. Choose from more 100 Gm midi musical instruments. You can save adjustments, and quickly choose them through the menu. New, completely altered algorithm of natural sounding "Concert", will allow you to use new intellectual polyphony! It's incredible, the sound will not break, and there will be no resonance in a sound!
Download Free Trial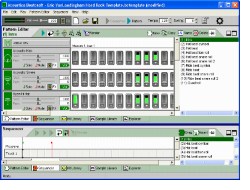 Acoustica Beatcraft is an extremely powerful, easy to use Drum Machine software program for beginners and professionals alike. Its friendly, streamlined interface makes beat generation fast, while allowing your unlimited creativity to pour through.
Beatcraft features an extensive library of top-quality, professional drum sounds, powerful sequencing and loop generation tools, and killer audio effects, all wrapped in a clean and comfortable interface with a 32 bit state-of-the-art sound engine.
Leave the dust cover on your drum set - Beatcraft is all you need to capture the power and rhythm of the world's best drummers. From light jazz beats to crushing hip hop beats, rap beats, heavy metal, 4-on-the-floor, straight ahead rock and roll to time-warping electronica and progressive rock, from dance and R&B to the edge of your imagination, Acoustica Beatcraft does it all.
Download Free Trial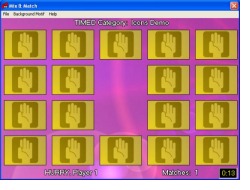 Mix & Match is the magic kid memory and concentration game for anyone who wants to help their children's memory and concentration skills, inside or outside the classroom. This game supports GIF, BMP and JPG formats pictures. It allows you use your own pictures and make your own categories, which alone makes the possibilities endless.

You also easily add, change and remove categories using its cardset manager. Mix & Match offers 3 sizes of game play: 20, 30, or 42 cards. It allows you to choose different background motifs, even load your own background picture. This game also limits time for different levels. Plus, it's a fun game, offering cool options and visual effects to keep children interested! Download Free Trial
Related MIDI Software Recommend and Download:

MidiView -It is easy to misapprehend some songs when there's no notation at hand. MidiView will solve this problem, so you can practice music using professional scores, printed or shown on the screen.. Download Now
MidiSyn - a very easy to use Windows program that lets you convert your MIDI files to WAVE. You can listen to the generated WAVE files directly or you can convert them to MP3 files or even burn them into audio CDs. Download Now
Ease Midi Converter - Convert MIDI to MP3, WAV, OGG, WMA, AAC, FLAC, and APE in batch. It copies the audio digitally, not through the soundcard, enabling you to make perfect copies of the original ones. Download Now
JMidiEth - A midi application that let you sharing you midi ports with others computers throws your network. Basically, you play a midi file in a computer A and you hear the music in the computer B . Download Now
MIDI Sleuth - It's a FTP based easy-to-use search engine for MIDI files that saves your hours of surfing the Internet and looking for a particular MIDI title.
Download Now
MidiRunner - A Play Center for MIDI,MP3,Wav,CD-Audio files, with a MIDI/PC keyboard. For MIDI files you can: extract lyrics; disable tracks and change instruments; change tonality and playback rate; save variations to new files. Playlists supported. Download Now
TS-MIDI Editor - allows you to quickly and effectively correct the results of the automatic recognition (for example, by TS-AudioToMIDI). Features include editing a note's velocity, duration, channel, track, patch. Specific player is included.
Download Now
Midi2Wav Recorder - Convert MIDI files to Wav or MP3 using external soundfonts or your sound card synthesis. It provides batch conversion, built-in mixering and tempo control. You can change MIDI instruments, their volume and balance.
Download Now