NFO Reader & NFO Viewer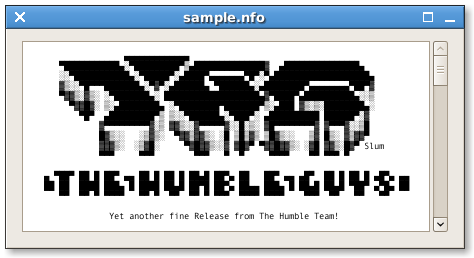 What is NFO file format? .nfo (a contraction "information") is a commonly used three-letter filename extension of ASCII or extended ASCII text files that accompany other files and contain information about them. Such NFO files can be viewed with text editors or dedicated NFO viewers. NFO files usually contain release information about a software program. NFO files were common, and sometimes required, during the era of the BBS. A typical warez NFO file was elaborate and highly decorated, and usually included a large ASCII art logo along with software release and warez group information.
How to view NFO files? Many users who download program files on the internet find it difficult to open or view NFO files. To open a NFO file, you need a NFO Reader or NFO Viewer.
Best NFO Reader & NFO Viewer software
GetDiz is a fully featured freeware text editor which can replace Notepad while maintaining an incredible speed, ease of use and small size. You can display and edit any text files with GetDiz. Additionally it offers enhanced functionality with DIZ and NFO files, which are often included in ZIP archives. GetDiz is able to display ASCII art correctly and save text, nfo and diz files as GIF images. The user interface is handy, small and specific. An optional USB-Stick installation is also possible. GetDiz Download

NFOPad is a small, fast and flexible combined nfo viewer and text editor. It is a clone of Microsoft's Notepad but with extra settings, and support for nfo files. The file extension is used to determine whether to use an ANSI or ASCII font. NFOPad also fully supports Unicode.
Features include: URL & e-mail follow, Highly customizable (fonts, colors, app. settings), Built in ASCII-fonts for nfo files, Portable, Window auto width, Recently opened files list, Copy on select option, Shell integration, Extension determines font, Unicode support, Printing, Searching & replacing text, Go to line, Delete line, Drag-n-drop, Always on top option, Word wrap option, Close on ESC key. NFOPad Download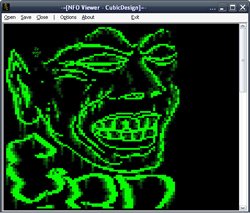 Compact NFO Viewer is a popular viewer for text files containing ASCII Art and description files (NFO/DIZ/TXT). It is designed for viewing text files containing ASCII Art (e.g. nfo files), and it proved itself to be handy. So, if you're fed up with starting some DOS-like file manager each time you need to view nfo file, or ain't too happy with the viewer you use, or (worst case) use Notepad - give this little tool a try.
Are used to store ASCII art. Are used especially by undergorund artists, hackers and other Interet 'ghosts' but the NFO files are also used by regular companies to distribue a description together with an application. Recently Microsoft also uses this format to store system specific information. This is a totally different format and you need a special viewer. Compact NFO Viewer Download
This NFO-Viewer displays any .nfo or .diz art completely correct by using a font, which consists of all the characters used in the DOS-ASCII character definition.

During the time NFO-Viewer is running, this TrueType font is installed to the Windows fontpool under 'NFO Font Temp-Install...'.
Features include: multiple instances, editable colorstyles, window settings are saved, recent files list, drag and drop, optional association with .nfo .diz and .txt on setup, hyperlink parser which lets you visit up to 10 hyperlinks, quick character set, and more... Flyingcode NFO-Viewer Download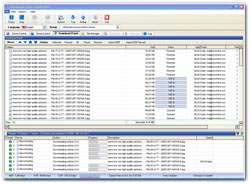 Ultraleecher is more than a classic Newsreader, Ultraleecher joins all the features and popular feature requests from the best Readers available and completes these features with a powerful CD/DVD Burn Engine, a highly secure encryption module to save your privacy, a great Script Engine and a comfortable Thumbnailviewer for your pleasure.
Probably Ultraleecher is the first and only Newsreader, which includes a 100% working and fully automated PAR2 handling and Uncompress Engine. Ultraleecher has the ability to detect how many blocks are corrupted and loads the amount of PAR2 files, the Engine needs to repair and uncompress. Additionally, it is a fully Ascci-Featured NFO Viewer. Ultraleecher Download