PPT Converter & Convert PPT to PDF/DVD/Video/AVI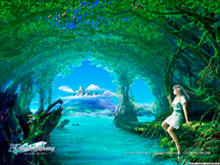 What is PowerPoint/PPT? Microsoft PowerPoint(ppt) is a complete presentation graphics package. It gives you everything you need to produce a professional-looking presentation. It offers word processing, outlining, drawing, graphing, and presentation management tools- all designed to be easy to use and learn. It allows you to construct presentations from scratch or by using the easy to use wizard. PowerPoint is often used to create presentations for an audience, and these presentations may exist in the form of picture slide shows or simple text. Microsoft PowerPoint is such a powerful tool to create professional looking presentations and slide shows.
What can PPT converter do for you? With the help of PPT Converters and viewers from this website, you can share your Microsoft Office PowerPoint PPT files with you friends which can be played on most computers, DVD, iPone, iPhone etc. With the excellent PPT Converters you can convert your PPT to PDF, can convert PPT to DVD, convert PPT to Video, convert PPT to many popular formats such as AVI, MPEG, MP4, MOV, WMV,FLV, etc.
We present the popular PPT converters for you. All of them are powerful. You can enjoy your PPT on computers very conveniently with the help of the best software we provided.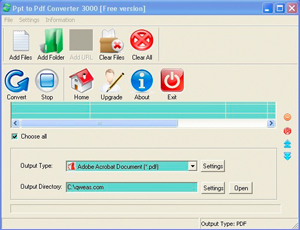 Ppt to Pdf Converter 3000 can free batch convert PowerPoint ppt files to PDF with brilliant results and without any problem. The PDF document that you get from PowerPoint ppt has a high quality which can preserve the original text, images, layout etc. More,the conversion speed is very fast. You must like it when you use it. With Ppt to Pdf Converter, you can view your ppt file with a PDF viewer.
Ppt to Pdf Converter 3000 support PDF margins, add the entire folder to convert, Support convert each PowerPoint page to one PDF file. This software provides User-friendly interface, very easy to use, just a few clicks can finish the conversion, more detailed parameters settings to customize PDF page, watermark image settings and watermark character string settings, provides imultaneously convert massive files to PDF once to save time and energy. It can Output PDF file from ppt format files with three modes (default mode, image mode, text mode) for different needs. If you do not have time to convert the files of list now, you can save the converted list to your computer. Do not need to load every file again. Ppt to Pdf Converter 3000 Download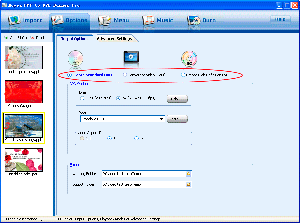 This is the best Professional PowerPoint to DVD & PowerPoint to Video solution I recommend. With Moyea PPT to DVD Burner, you can easily convert your any PowerPoint presentations to DVD movies and save them on recordable DVDs with beautiful DVD menus for easier offline speech and convenient delivery. This Presentation tool also can convert PowerPoint to video in all formats, such as PowerPoint to AVI, PowerPoint to MPEG, MP4, MOV, FLV, etc. Thus you can upload your PowerPoint to YouTube for both free share and commercial purpose.
Moyea PPT to DVD Burner Pro key features are including: All-in-one tool, PowerPoint to DVD, burner Powerpoint to Video converter; Retain the original animation, music, movie clips, and slide transitions; Properly compatible with PowerPoint 2000/2002/2003/2007; PPT to DVD & PPT to Video batch process supported; Delicately design beautiful theme DVD menus to navigate your audience; Insert any quantities of background music to PowerPoint file; Record narrations and instructions for the output file; Allow one animation one chapter for lecturers' convenience; Enable one slide one chapter for easy viewing. Moyea PPT to DVD Burner Pro Download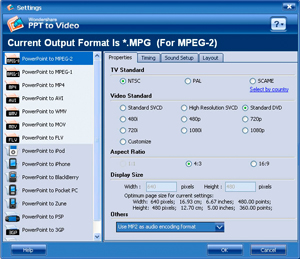 Wondershare PPT to Video is an all-in-one PowerPoint to video converter which empowers you easily to convert your PowerPoint presentations to almost all popular video formats such as MPEG (MPEG-1, MPEG-2), AVI, MP4, WMV, MOV and 3GP with excellent quality. It is ideal for uploading your PowerPoint to web, YouTube and blog. And it is also ideal for reviewing your presentations on iPod, iPhone and Pocket PC or watching them on TV. After the conversion, you can share your presentations conveniently with your families and friends.
Wondershare PPT to Video features included: retain all the animations, transitions, sounds and movie clips in the original PowerPoint; supports converting PPT, PPS, PPTX and PPTM; flexible output formats: MPEG, AVI, MP4, WMV, MOV and 3GP; superior batch conversion: up to 12 PowerPoint files can be converted at a time; flexible settings for different screen size meet specific needs; friendly user interface lets you enjoy your conversion course.
With Wondershare PPT to Video, you can burn the converted video to DVD/VCD; upload it to youtube.com or myspace.com for wide-sharing; broadcast your presentations via online video sharing site like YouTube
5.By converting PowerPoint to MP4, you can view your presentations on portable device such as iPod, Zune, iPhone, Apple TV and Pocket PC. Wondershare PPT to Video Download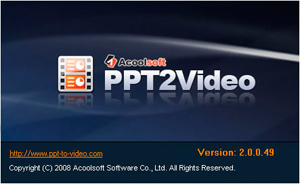 Acoolsoft PPT2Video Converter is designed to help you convert PowerPoint Presentations to stunning videos. With only 3 clicks, you can convert PowerPoint presentations to video formats> such as MPEG, AVI, MP4, WMV, MOV, FLV and 3GP with excellent quality.Acoolsoft PPT2Video Converter will make you look like an expert in the area of PowerPoint to video, even if you never did this before.>
PPT2Video Converter can help you: Converts your PowerPoint to video in most popular formats; Enables you to view your PowerPoint presentations without a MS PowerPoint installed computer; Empowers you to review your presentations anytime on various portable devices; Makes your presentations reach more people by uploading to websites; PPT2Video Converter helps you easily convert PowerPoint to video. Besides, you can burn the converted video to DVD with third-party burning tools. It support converting your PPT to videos such as MPEG-1, MPEG-2, MP4, AVI,WMV,FLV and 3GP; support batch conversion; watching your PowerPoint presentations on TV via Apple TV.
Acoolsoft PPT2Video Converter Download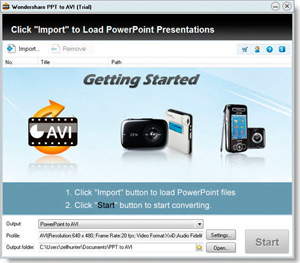 Wondershare PPT to AVI empowers users to convert PowerPoint presentations to AVI video, which can be played on most computers. It can retain all the elements in the original PowerPoint such as animations, transitions, sounds, video clips, and even hyperlinks between slides. Enables users to upload presentations to blog, websites or portable devices like Zune and Zen.
Wondershare PPT to AVI cracks the obstacle of sharing PowerPoint on a MS PowerPoint installed computer. Helps users view their presentations in various ways. After the converting, users can view the presentations just like a movie. No programming knowledge or multi-media skills is required. In just three steps, users can convert their PowerPoint presentations to AVI. It is all that easy.
Key Features of Wondershare PPT to AVI included: convert PowerPoint presentations to AVI video; customize video resolution: 320*180, 320*240, 480*270, 480*320, 640*480; retain animations, transitions, sounds and video clips; superior batch conversion: up to 12 PowerPoint files can be converted at a time.Wondershare PPT to AVI Download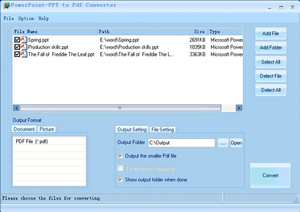 PowerPoint/PPT to Pdf Converter can help you create PDF file from documents including ppt, pptx, pptm. It is easy-to-use software which can translate different doucment formats to pdf in batches once with ease.The converting process is finished in short time.The conversion will be as original as an original format and all this comes with this effortless user friendly software.Whether you are an experienced user or a beginner,you can operate effortlessly.Free download it now and colorize your life at once.
PowerPoint/PPT to Pdf Converter key features included: Convert PowerPoint, PPT,PPTX,PPTM to PDF, Convert comprehensive different formats to pdf file at one time, Easy-to-use and friendly style interface, Retain the original style, Easy to operate, High converting speed and super good output quality.
PowerPoint/PPT to Pdf Converter Download
Related PPT Converter Software Recommends and Downloads:

PPT to PDF Converter - a PowerPoint Plugin that convert PPT to PDF, PowerPoint document to PDF automatically. Download Now
Leawo PowerPoint to DVD - can convert PowerPoint to DVD movie and convert PowerPoint to video in all formats, such as PPT to AVI, MP4, FLV, 3GP, etc. Download Now
Moyea PPT to Video Converter - an easy-to-use tool in converting PowerPoint to video, it can convert converting PPT to AVI, MP4, MPEG, FLV etc.. Download Now
Wondershare PowerPoint2DVD -a reputed tool using PowerPoint to create high quality DVD movies. Download Now
PPT To Video Scout - Converts PowerPoint presentations (PPT) into video with animations and sound. Download Now
ABOILSOFT PowerPoint to DVD - Convert PowerPoint presentations (ppt) into video files (AVI). Download Now
ABOILSOFT PowerPoint to Video - converts PowerPoint presentations into video [AVI] file. Download Now
Powerpoint-PPT to AVI/GIF Converter - capture sound/frames from the ppt/powerpoint file and save them to AVI and gif. Download Now
iToolSoft PPT Video Converter -Converts PowerPoint to vivid video by luxurious output video and audio formats. Download Now
Wondershare PPT to MP4 -enable users to convert PowerPoint to MP4 video for playing on portable players. Download Now
Wondershare PPT to WMV - empowers users to convert PowerPoint presentations to WMV video Download Now
Foxo PPT to PDF - The software can help you converter powerpoint (ppt) files to pdf files. Download Now