Rar Cracker & Zip Cracker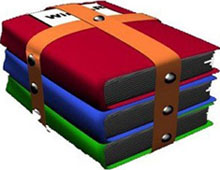 What is RAR and Zip files? both rar and zip are shareware file archivers and data compression utilities. Comparing to ZIP file format, RAR provides a number of advanced features: more convenient multipart (multivolume) archives, tight compression including special solid, multimedia and text modes, strong AES-128 encryption, recovery records helping to repair an archive even in case of physical data damage, Unicode support to process non-English file names and a lot more.
What is RAR, ZiP, WinRAR, WinZip file format support? RAR/winrar supports the following file formats: rar, zip, cab, arj, lzh, ace, 7-zip, tar, gzip, uue, bz2, jar, iso, z and will compress files to .rar, .zip and to self-extracting .exe. Zip/Winzip supports the following file formats: arc, arj, b64, bhx, cab, gz, hqx, lzh, mim, tar, taz, tgz, tz, uu, uue, xxe, z and zip. But, and this is where WinZip loses a lot of ground, it will archive files only to the zip format.
Why you need RAR Cracker or Zip Cracker software? RAR/Zip files are data containers, they store one or several files in the compressed form. After you downloaded RAR/ZIP files from Internet, you need to unpack its contents in order to use it. if you lost or forgotten passwords to ZIP, RAR, WinRAR, WinZip etc. you need RAR Cracker or Zip Cracker software to recover your RAR or Zip file's password. here's some RAR Cracker or Zip Cracker software for you.
RAR Password Cracker is intended to recover lost passwords for RAR/WinRAR archives of versions 2.xx and 3.xx. The program finds by the method of exhaustive search all possible combinations of characters ("bruteforce" method), or using passwords from lists ("wordlist" or "dictionary" method). Self-extracting archives and multivolume archives are supported.
RAR Password Cracker is able to save a current state (you can interrupt the program at any time, and restart from the same state later). Estimated time calculator allows you to configure the program more carefully.
RAR Password Cracker requires no special requirements for memory capacity, but the processor performance should be as high as possible. Special hardware is not required. News in version 4.12:
Fixed: Permanent crashes on some types of files.
Added: New type of licenses: low-cost time-limited fully functional version.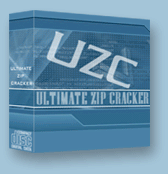 The Ultimate ZIP Cracker is designed for recovering lost passwords from many popular file types including: MS-Word documents (*.DOC), Office 97-2003; MS-Excel documents (*.XLS), Office 97-2003; ZIP archives created by PKZIP, WinZip or by any compatible software; ARJ archives created by ARJ, WinArj or by any compatible software.

Ultimate ZIP Cracker is highly optimized for speed. It supports the following search methods:
-Password Wizard provides easy step-by-step password recovery.
- Brute Force Attack will test all possible passwords.
- Smart Search will test all "pronounceable" passwords.
- Dictionary Search can use the build-in or external dictionary.
- Date search will apply more than 5,000 date formats to a given date range.
- Customized search will use your own search template.
- Guaranteed decryption method will decrypt your .DOC or .XLS file regardless of password used. Very fast on Pentium 4 system!
- Plaintext attack will decrypt your whole encrypted .ZIP file if you have another unencrypted ZIP file (called plaintext file) which contains at least one file from the encrypted archive. Ultimate ZIP Cracker Download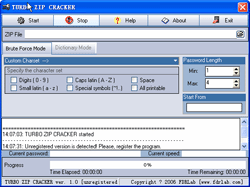 Turbo ZIP Cracker is a handy tool, designed to recover lost or forgotten passwords for encrypted ZIP archives created using WinZip, PKZip, WinRAR or any other ZIP-compatible software. We create this software to help you solve your problem easily. There are no need to hold any special knowledge in order to use this software.
Turbo ZIP Cracker Key Features include: accept Zip-archives created using different software; self-extracting Zip-archives (SFX) are also accepted; supported Zip archives encryped using Standard Zip 2.0 encryption and 128-, 196- and 256-bit AES encryption; supported brute-force attack and dictionary based attack password search methods; the custom charset support for Brute-force attack (special characters and national symbols are also supported); additional case changes for dictionary passwords; assignment of Min and Max password length; password recovery progress bar; convenient user interface; full install/uninstall support.
Turbo ZIP Cracker Download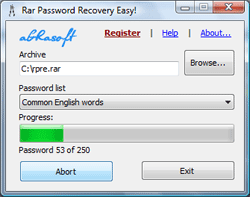 RAR Password Recovery allows you to recover the lost or forgotten password for a RAR or WinRar archive. The program supports the brute-force attack, dictionary-based attack and booost-up attack. It is able to resume a previous interrupted attack.
RAR Password Recovery recovers password for a RAR or WinRAR archive by using combination of Brute-Force, Booost-Up or Dictionary attacks. It is able to resume a previous interrupted attack. Key features this software includes: recover passwords for RAR/WinRAR archives of versions 2.xx and 3.xx by using combination of Brute-Force, Booost-Up or Dictionary attacks; very high speed of work; large wordlist dictionary; auto save interrupt.
RAR Password Recovery Download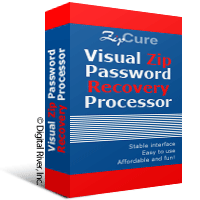 Visual Zip Password Recovery Processor is an advanced zip password recovery utility. It features a nice GUI interface and a number of exclusive attacks to beat zip passwords. Real zip passwords cracker. Undocumented features of ZIP files provide you with a great time reduction while searching, the program possessing a smart heuristic.
Visual ZIP Password Recovery Processor (or simply VZPRP) recovers lost passwords for ZIP archives. Now you do not have to give out your sensitive information to "somebody", who promises to recover the passwords. Who guarantees, that he will not only recover the password, but also then will erase and not copy the zip file? NOBODY. You can save a lot of money, recovering by yourself. However, this "recovery" does not take more than to select the zip file and press "GO". That is all. Why pay somebody for their "work", if they use the same software as you will do! For only 30$. Software is yours.
Visual Zip Password Recovery Processor is smart enough to not give you "wrong" matches, as many other do. If it says that the password is here, then it really is. Has ability to run in the background, thus not disturbing any other processes in your PC, manually check passwords and can analysis heuristic. It support high speed, etc.. You can make a very effective use of your local area network. Taking into account that LANs are now everywhere, your passwords can be recovered with an amazing speed- exclusive feature!
Visual Zip Password Recovery Processor Download