RMVB Player & RMVB Codec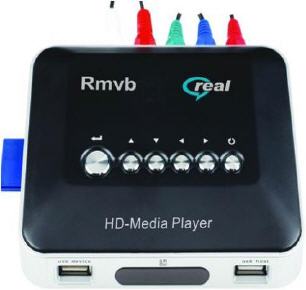 What is RMVB? RealMedia Variable Bitrate (RMVB) is a variable bitrate extension of the RealMedia multimedia container format developed by RealNetworks. It holds streaming media encoded at a constant bit rate, RMVB is typically used for multimedia content stored locally. Files using this format have the file extension ".rmvb".

What is the advantage of RMVB? The advantage is RMVB format abandons Average Bit Rate and use Variable Bit Rate to compress video data. RMVB files have become a popular format for movie titles because they have smaller file sizes and lower bitrate with better quality compared to DivX.

RMVB Player : A video player that can be associated with your RMVB files. You just need convert or select your video files to RMVB format, and RMVB player will play your favourites.

RMVB codec : To play RMVB videos you first need to install the RMVB codec on your computer. After you've installed the RMVB codec on your system, your media player of choice (such as Windows Media Player, Media Player Classic, RealPlayer) should be able to play all RMVB movies and videos.

Now you can play RMVB files with the best RMVB player & RMVB codec we recommend. You may also want to play your other video formats with you RMVB player & AVI codec or covvert RMVB files to other video formats and player them with common players. So, you'll need RMVB converter.
Apex RM RMVB Converter - supports convert rm/rmvb formats to AVI, XVid, DivX, MPEG, MPG, VCD, DVD, SVCD, MOV, ASF, WMV, SWF, FLV, iPod, Zune, Apple TV, iPhone, 3GP, PMP, PSP, Xbox, ac3, wma and Image formats.
Download Now
Extra DVD to RM RMVB Ripper - provides you a fast and easy way to back up your favorite DVD movies to RM RMVB video formats and not worry your children might be scratching the copies during day-to-day use.
Download Now
Allok RM RMVB to AVI MPEG DVD Converter - a powerful RealMedia converter software which can convert RM, RMVB to AVI, DivX, Xvid, MPEG1, MPEG2, VCD, SVCD, DVD, WMV, MP4, 3GP, FLV formats.
Download Now


Best RMVB Players & RMVB Codecs software
ViViDVD Player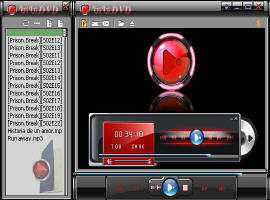 ViViDVD Player
ViVi DVD Player is an easy to use and powerful - DVD player that combines the great picture and sound with full featured DVD navigation that includes: DVD playback with full operating controls.
ViVi DVD Player supports most popular video and audio formats including IFO, DAT,AVI, VOB, WAV, MPEG, WMA, WMV, ASF,
RMVB
and DivX, and it also provides you more options to specify, such as image ratio, snapshots, audio channel etc.
ViVi DVD Player will play different region coded movies from anywhere in the world, and will play all zone pal and ntsc dvd discs, even your DVD device did not support the DVD disc region.This means that movies from Region 1 (USA & Canada) WILL NOT play on a DVD player regions 2-6. Effectively Region 1 discs play only on Region 1 DVD players, Region 2 discs play only on Region 2 DVD players and so on.But with the ViVi DVD Player you can play any Region discs on any Region DVD read device.you will enjoy countless hours of pleasure and entertainment!
ViViDVD Player Download Site 1
|
Download Site 2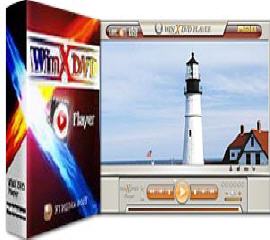 WinX DVD Player WinX DVD Player is a full-featured and easy to use DVD, Video CD, Audio-CD and media file player.The player features volume, play speed and brightness control for movies.
You can play more than commercial DVDs: Winx DVD player supports most popular video and audio formatsincluding IFO, DAT,AVI, VOB, WAV, MPEG,WMA;WMV,ASF,RMVB and DivX, and it also provides you more options to specify,such as image ratio, snapshots, audio channel etc. through these setting, you can get fairly different video and audio effect.
In new version, we use more powerful technology to ensure that you enjoy the natural and vivid video effect.
WinX DVD Player Download Site | Download Site 2
RealPlayer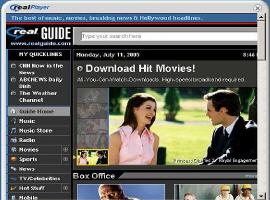 RealPlayer is a proprietary cross-platform media player that plays a number of multimedia formats including MP3, MPEG-4, QuickTime, Windows Media, and multiple versions of proprietary RealAudio and RealVideo formats.

RealPlayer is the perfect media player for audio, video, and flash. With it, you can rip, mix, and burn CDs and MP3s fast. It plays all major audio and video formats, so you can build your own playlists and video libraries. And RealPlayer 11 lets you download your favorite videos from thousands of sites and watch them anytime, anywhere you want.RealPlayer was a popular streaming media player .
RealMedia formats - RealAudio (*.ra, *.rm), RealVideo (*.rv, *.rm, *.rmvb), RealPix (*.rp), RealText (*.rt), RealMedia Shortcut.
Graphics-*.bmp, *.gif, *.jpeg, *.jpg, *.png .
Streaming-rtsp://,pna://, pnm://, mms://, *.sdp, *.smil, *.smi.
Video- DVD, Video CD, MPEG Video, AVI, MJPEG video playback from .avi files,Windows Media, QuickTime, Adobe Systems Flash, Flash Video, Playlists (*.rpl, *.xpl, *.pls, *.m3u)
Audio-MP3, CD Audio, WAV, AAC/aacPlus v), Apple Lossless, AIFF, AU Audio Files, Panasonic AAC. RealPlayer Download Site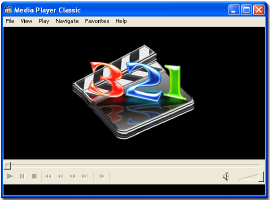 Windows Essentials Codec Pack Windows Essentials Codec Pack , or WECP for short, is one of the most comprehensive collection of Media Codecs, Filters, Splitters and other tools that will enable you to play 99% of all the movies, music and flash files you download off the internet. WECP also includes a set of powerful filters that can enhance the video quality as well as audio quality and it comes complete with an automatic update service that will keep your computer up-to-date with the latest software upgrades as soon as they become available.

WECP is designed as a near complete solution for all your video and audio needs, with it you can play Audio CDs, DVDs, (S)VCDs and XCDs on the fly, and it adds support for 3GP, AAC, AC3, APE, AVI, DivX, 3ivx, DAT, h.264, x264, AVC, Nero Digital, DTS, FLV, FLAC, HD-MOV, MPEG-1, MPEG-2, M4A, MPC, MP3, MP4, MO3, MOD, MKV/MKA, MTM, OFR, TTA, OGG/OGM, S3M, Vorbis, VOB, WavPack, ATRAC3, XviD, RM, RMVB, XM, WV, UMX and many more formats so you could play any video / audio file with your favorite media player or with the free and wonderful Media Player Classic player that comes included with WECP. Windows Essentials Codec Pack Download Site
More Other RMVB Player Software:

Winner Realmedia RM RMVB Converter - An efficient and easy to use software to convert Realmedia RM and RMVB video to all popular video formats. You can convert to AVI, WMV, MPEG, MOV, SWF, FLV, MP4, MP3, AAC and other video and audio formats. Download Now
BSplayer- Supports all popular video and audio media file types, containers and formats such as: DivX, avi, mpeg-1, mpeg-2, Xvid,3ivx, QT QuickTime mov, wma RM/RMVB, OGM, MKV Matroska, asf, wmv, DV, etc.
Download Now
Apex RM RMVB Converter - supports convert rm/rmvb formats to AVI, XVid, DivX, MPEG, MPG, VCD, DVD, SVCD, MOV, ASF, WMV, SWF, FLV, iPod, Zune, Apple TV, iPhone, Mp4, 3GP, PMP, PSP, Xbox, mp3, ac3, wav, wma, mp2 and Image formats.
Download Now
VLC Media Player For Mac - A portable multimedia player for audio and video formats, including MPEG-1, MPEG-2, MPEG-4, DivX, MP3, and OGG, WMA, RM/RMVB, as well as for DVDs, VCDs, and various streaming protocols. Download Now
Tutu RMVB to X Converter - A powerful converter tool for converting RM/RMVB to AVI, DivX, XviD, MPEG, WMV, MOV, ASF, QuickTime, etc. And surely you can convert RMVB to your portable devices, such as RMVB to iPod, RMVb to iPhone, RMVB to PSP
Download Now
Media Player Codec Pack - A simple to install package of codecs/filters/splitters used for playing back music and movie files. It can play 99.9% of files through your media player,and it certainly includes rm/rmvb format. Download Now