Touchscreen Add-ons for Monitors and Notebooks
Easily add a touch screen to your monitor! Great for home, school, office use, and more. They are also great for developing and protoyping touchscreen software.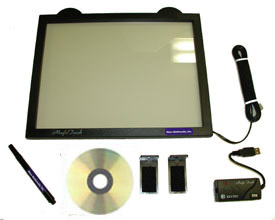 Features
Perform the following mouse functions by touching the screen: Left-Click, Right-Click, Double-Click, Drag-and-Drop, and Drawing!


Attaches externally for easy installation!


Easy USB connection to PC


Works with all standard mouse-driven software


Works alone or with keyboard and mouse


Responds to finger, gloved hand, or pen stylus (included)


Works with Windows 98 / ME / 2000 / XP / Vista, Redhat 9.0, and optionally Macintosh OS 9.x - 10.5.x (Additional charge for Mac OS Driver - See Below)

The touchscreen add-ons are available in several sizes to fit a variety of computer displays. The touchscreen should be at least as large as the display area of your monitor. The touchscreen can be larger than the display screen and still work, but it will not work properly if it is smaller than the display screen.

Measure your monitor in inches, diagonally, from lower left to upper right - the actual video screen only, not the plastic case of the monitor or notebook.

All touchscreen sizes are Standard Aspect Ratio (4:3) unless it says Widescreen. Widescreen touchscreens are required for Widescreen Aspect Ratio (ie. 16:9) displays. We hope to have more widescreen sizes available soon.