Video Editting Programs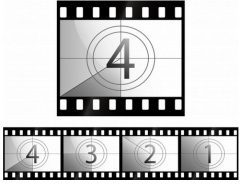 With Video Editing Software, you can create and share your own screen sensations with the world . Make your own action flicks, funny clips or video memories effortlessly or post to your video blog in seconds with a capable video editing program.

When thinking about video editing software, first consider what you want to do. Some programs only perform simple tasks, such as converting formats or burning DVDs. Others offer complex editing tools such as timeline edits, special effects and advanced templates. Below is some video editting software , you may choose it yourself!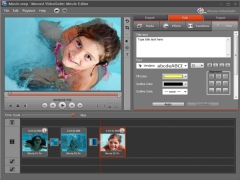 Movavi Video Editor is a comprehensive yet easy-to-use program for video editing and quality improvement. Edit video on a timeline: cut, trim, join video files of any format, apply visual effects and filters to your video, insert transitions. Overlay soundtrack and customizable text titles. Create stunning slideshows. Share your video project the way you like: save it in any popular format, transfer to your portable device, burn it on a CD/DVD.It could Separate video, audio, and title tracks of the timeline panel , and supports Wide range of supported formats and unique input media sources . And You have multiple ways to share your video creations:
- Save video in any popular format.
- Transfer your video project to a portable device of your choice.
- Burn the edited video to a CD or DVD. Download Free Trial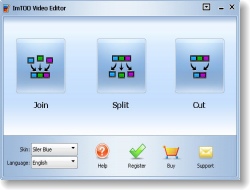 ImTOO Video Editor is multifunctional video edit software comprising functions of Video Joiner, Video Splitter, and Video Cutter. Using this video edit software, you can accomplish almost all common video edit works with excellent image quality output. For example, the video editor can help you join multiple video files such as AVI and MPEG to a new one, split one file into several segments, or merge your favorite video segments which are cut from one video as another one easily and fast. This edit video software supports edit video files such as AVI, MPEG, WMV, MP4. It's the very answer of how to edit a video.

This video edit software is capable of dealing with so many formats effortlessly, finishing all your tasks with the highest speed and the best quality. All processes are easy to handle. Just free download ImTOO Video Editor and make your video editing easily and fast. Download Free Trial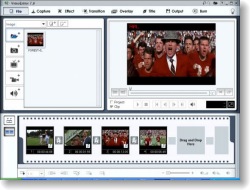 Honestech Video Editor 7.0 is a powerful piece of video editing software that can assist you in compiling a professional looking movie from your existing personal videos, digital still images, and audio files. With its user-friendly and intuitive interface, honestech Video Editor 7.0 is simple enough for first time users yet powerful enough for experienced pros.
Its high performance MPEG encoding engine saves edited digital videos into small, high quality MPEG-1, MPEG-2, AVI (including compressed AVI), DV-AVI, and WMV(Window Media) format. And it can manage and edit multiple files simultaneously. Each video file can be edited on "Full Rendering", "Smart Rendering", "GOP(Group Of Picture)" level.
Download Free Trial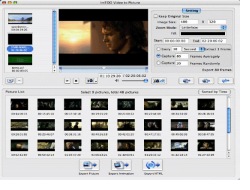 ImTOO Video to Picture for Mac is multifunctional picture capture software with high picture quality, which helps you extract pictures from various video formats such as MPEG, DivX, Xvid, AVI, RM, MP4, M4V, MOV, WMV etc. The captured images can be saved as static pictures in JPEG, PNG, GIF, BMP, or exported to GIF and Flash animation. What's more, they can be outputted to HTML page if necessary.
With the flexible capture mode, you can batch capture or take single snapshot of pictures automatically or manually. This software provides a picture list for you to preview the captured pictures, which allows you to extract images by frames more accurately.
Download Free Trial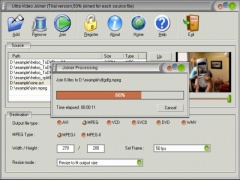 Ultra Video Joiner is a tool to help you join or merge AVI(Divx, XviD, MPEG4), MPEG I/II, DVD(.VOB), VCD(.DAT), ASF/ WMV files in one large file in various format. This software is very easy to use, and performs quickly without any quality loss.

It allows you add an unlimited number of video files to the list and easily rearrange their order if needed, then join the videos files to a large movie file in AVI(Divx, XviD, MPEG4), MPEG I/II, VCD, SVCD, DVD, WMV/ASF format. You even can use it to convert a single file. And you can change the framerate, size etc, as you like. It supports large video file, even large than 2GB. Also Ultra Video Joiner provides preview window for viewing video files. Download Free Trial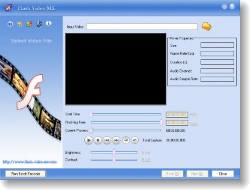 Flash Video MX is a very easy-to-use yet professional software tool to convert your avi video to flv, video to swf that can be played on Internet Explorer with high quality. It supports almost all types of source video files such as mpeg, avi, mpg, wmv, rm, rmvb, mov and so on, and can generate flash video output, then get the flash on your web. Flash Video MX is also a good flv encoder, flash video encoder.

Flash Video Batch Encoder is a professional tool in Flash Video MX, which is used to convert multiple video files at once. With the Flash Video Batch Encoder, you can select a list of video files and specify their encoding settings, then encode them at once by a single hit of a button. Download Free Trial


Related Video Editing Software Recommend and Download:

Easy Video Editor - split and join video files of various formats Download Now
Video Editor Master - a graphical editor for Windows Media (.asf, .wmv) and MPEG files Download Now
Video Editor Express - a graphical editor for Windows Media (.asf, .wmv) and MPEG files. Download Now
FadeToBlack AVI Video Editor -join, split, crop, modify color, rotate, overlay, blur your AVI video files.Download Now
AVS Video Editor -edit various video file types, trim, cut unwanted video parts or ads, merge or split, use text effects,etc . Download Now
Video Editor for Mac - a powerful movie editing application for mac.Download Now