Photo sharing
Photo sharing allow you to automatically generate a slideshow with photos from your Disk Drive sub-directories.
You can choose one presentation from the several different ones provided with Weezo: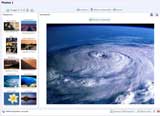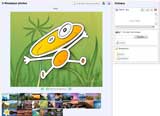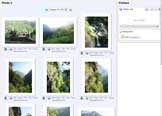 Weezo will automatically create the web pages in real time, allowing users to directly access your photos and watch the slideshows on-line.
You can authorise your visitors to download the original photos at full resolution, to leave comments or, if you wish, to upload their own pictures. They will be copied in the shared directory and automatically added to the album.

Music sharing and "peer-casting"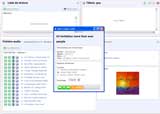 Music sharing allows you and your friends to stream and listen to your music anywhere, anytime.

If you want to, you can authorise users to download your music.
The quality of the "Peer-casted" tunes can also be downgraded in real-time. It is thus possible to make available for listening an original tune you don't wish people to download at full quality.
A user can also choose to downgrade the playback quality, to adapt to a low bandwidth for instance.

Weezo can automaticaly synchronize it's content to your iTunes library.

Video sharing and streaming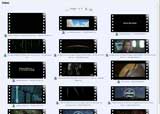 Select one or more directories containing the videos you wish to share. Weezo automatically create a web page with preview thumbnails.
You can either stream and watch them or download them. You can choose to "peer-cast" your videos in their original format or Weezo can reencode them on-the-fly to Flash Video Format.




Global access to files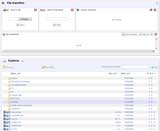 Global access to files means that you can upload or download all types of files.
Depending on the user's rights you define, it is possible
to :
display and download files
upload files from a remote computer to your Weezo Personal Site
download files from any web site to your Weezo Personal Site
"bundle" download (downloaded files are bundled in a zip file)
create a directory, delete and rename files and even execute a program on the computer hosting Weezo.
You can give users access to your whole disk drive or only directories (and, if you wish, their sub-directories).
You can thus use Weezo Global File Access for your own needs (i.e. access from work, uploading photos from a cybercafé during your holidays...) or to share and exchange files with your family and friends.

Bookmark sharing
Bookmark sharing allows to remotely access your bookmarks.
A thumbnail of each site is automatically created to have a visual representation of your bookmarks.
Weezo can display, add and edit bookmarks from Internet Explorer, Opera and Firefox.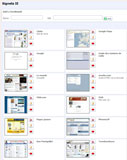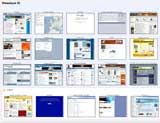 You can thus add new links from any remote location. Your friends can browse your bookmarks and propose theirs to you.

Blog
A blog is part of Weezo.

All the classical functionalities you've learned to expect from a blog are here (images, comments, archive...).
Webcam
You can display pictures taken by your webcam in real-time.

RSS feed reader
The included feed reader let you read and share your RSS feeds.
Feeds list can automaticaly be synched with IE7, Firefox 2 or any Feed reader software using OPML format.

Website hosting
Thanks to Weezo, you can host any HTML "static" website.
You can pblish a site you have developed yourself or any static site created by a third party (for instance, photo galleries generated using ACDsee...).

Remote management
You can remotely manage your Weezo Personal Site. With the Weezo remote Management Module, you can:
activate or deactivate any user account
setup and configure shares
monitor on-going transfers
monitor your site traffic and audience

stop or re-start your computer

stop or re-start Weezo
take control of your computer remotely

Chat
You can anytime discuss with your visitors, and let them chat together...

Contacts
You can have a list of your Weezo-using friends. You will be informed when their Weezo Personal site is on-line and will be able to access it directly with a click.