Windows Live Messenger helps you stay connected to the people you care about. Put the people you chat with most in your list of favorites, so you can easily see when they're online. Want to chat with several people in one window? Just set up a group. Show off your personal style with custom scenes and animated display pictures. Drag photos into the conversation window and show them off while you're chatting. See what your contacts have been up to lately, automatically.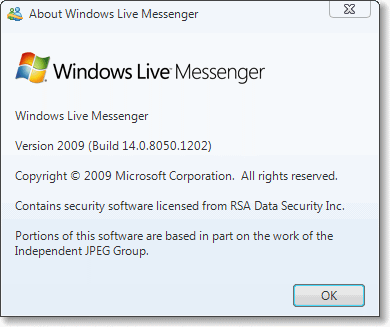 System Requirements
Supported Operating Systems: Windows Vista; Windows XP Service Pack 2
Operating system: Windows XP with Service Pack 2 (32-bit edition only), or Windows Vista (32-bit or 64-bit editions). Note: Windows Live Movie Maker is not supported on Windows XP
Processor: 1 GHz or higher for Windows Vista; 800 MHz or higher for Windows XP
Memory: 128 MB of RAM (256 MB or more recommended) for Windows XP; 512 MB for Windows Vista
Resolution: Minimum 1024 x 768
Internet connection: Internet functionality requires dial-up or broadband Internet access (provided separately). Local or long-distance charges may apply.
Browser: Windows Live Toolbar requires Microsoft Internet Explorer 6 or later
Graphics or video card: Windows Live Movie Maker requires ATI Radeon 9500 (or higher) or nVidia GeForce FX 5900 (or higher).
The following components are needed for specific Windows Live programs, and may be installed for you if they're not already on your computer.
For Writer
: Microsoft .NET Framework 2.0 or higher*
For Photo Gallery
: SQL 2005 Compact Edition and Windows Imaging Codecs*
For Photo Gallery and Movie Maker
: Some components of DirectX9
* Not needed when installing on Windows Vista.