YouTube to MP3 & YouTube Audio Extractor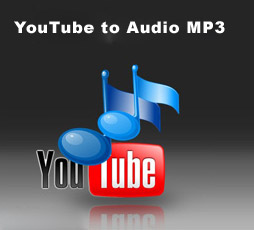 YouTube is one of the most popular video sharing website.YouTube is a video sharing on which users can upload and share videos. But some times you need to convert YouTube flash video to mp3. Which software have the function to exactor audio frome youtube Flv video? Here are the best Youtube to mp3 software.
Most of the Youtube to mp3 software are powerful! Some of them can not only help you to download the videos form youtube, but also convert Youtube Flv video to lots of popular video formats, audio formats such as; Flv to mp3, Flv to AVI, Flv to MP4, Flv to WMV, Flv to MOV,Flv to WMA, Flv to M4A, etc.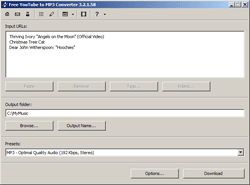 Free YouTube to MP3 Converter can extract and download audio from YouTube video and save it as MP3 file on your PC with one mouse click and with this YouTube Converter! It contains no spyware or adware.The interface is very simple and self explaining. There is a field for YouTube URLs, a field for an output path, and a list with preconfigured profiles.It's clearly free and absolutely safe to install and run.

Free YouTube to MP3 Converter doesn't integrate with the browser, but it can automatically pick up URLs from the clipboard, which eliminates one step from the cutting and pasting process.

Free YouTube to MP3 Converter installs the Ask.com Toolbar and resets your home page to the Ask.com Web site by default, so if you don't want these extras, you'll have to uncheck some boxes during the installation process. These inconveniences are offset by the fact that this program is not only effective, it also costs nothing to use. Free YouTube to MP3 Converter Download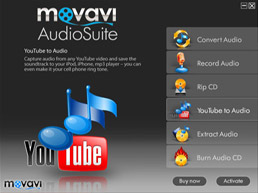 Movavi AudioSuite - YouTube Audio Extractor is the best YouTube Auido Extractor software which helps you to extract YouTube audio to MP3 and save as iPhone ringtone with several steps. People can play Movavi AuidoSuite to download YouTube audio and extract a YouTube audio segment or total YouTube audio and save as iPhone ringtone.

Movavi AudioSuite can extract audio from DVD movie, YouTube video and all popular video file formats, including AVI (DivX, XviD, etc.), DV AVI, MP4, WMV, ASF, 3GP, 3GP2, 3GPP, 3GPP2, QuickTime (MOV, QT), DVD, VOB, IFO, VIDEO_TS, AUDIO_TS, MPG, MPEG 1,2,4, MOD, DAT, MJPEG, VCD, SVCD, H.263. and output to MP3, WAV, WMA, AAC or OGG audio files.
You can click the button "File" to add YouTube audio to this software, or click the URL button to insert the video URLs in your YouTube downloader to download YouTube videos. Then YouTube audio to be extracted and saved as MP3, MP4, 3GP, 3GPP etc. and the audio files will display in the "Source File" folder. And if you want to remove files you don't want, you can click "Delete" button.
Nidesoft YouTube Video Converter Download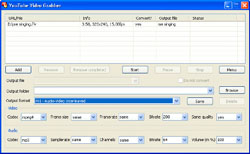 YouTube Video Grabber is a software tool you can use to save your favorite online videos to your computer in wide range of different video formats. You can upload Youtube videos on your mobile phone, PocketPC, PSP or any other portable device able to play video files. In addition to support of all well known online video services this software can also try to scan for embedded videos on some general internet site, all you need to do is provide URL of this page. Another feature worth to mention here is a plug-in implementation of video downloading engines for each online service, they are kept up to date and available to download with in-built online update service.
YouTube Video Grabber can convert the downloads(from YouTube, Google Video, MySpace, iFilm, Break, PutFile.) to wide range of video formats, such as AVI, 3GP, 3GPP, WMV, DivX, Xvid, WMV, MPEG-1, MPEG-2, MPEG-3, MPEG-4. You can save audio track of any video file or online video include Youtube video file to audio file. MP3, WMA, M4A, AAC, RA audio formats of output file are supported. So you can certainly convert Youtube video files to mp3. YouTube Video Grabber Download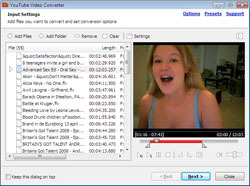 There are many software to convert youtube to mp3. Now I recommend a best Youtube converter - YouTube Video Converter. It is an ideal tool for converting YouTube videos. It allows you to convert videos to any format for any device. With YouTube Video Converter, you can easily convert videos from one format to another, save videos to your iPod, iPhone, PSP, CellPhone and any other mobile device.
You can also extract sound tracks from youtube video files. YouTube Video Converter supported convert youtube files to the following formats: MP4, H.264, 3GP, 3GP2, FLV, AVI, WMV, MOV, VOB, MPEG-1, MPEG-2, H.263, MP3, AAC, AC3, ringtone, and more various formats. In another word it can convert youtube file to mp3. The program is powerful but easy to use, just drag and drop files you want convert to the program, select the output format, then click the Convert button!
YouTube Video Converter Download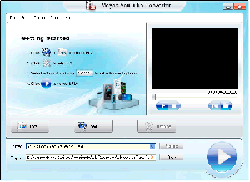 Moyea YouTube Converter is another excellent video convert which supports converting youtube files to mp3 that I recommend. It is a professional and powerful Flash video/FLV to video converter, which enables you convert YouTube videos directly from YouTube.com or from the local to the popular file formats, like AVI, MP4, MPG, WMA, MOV, 3GP, 3G2, MP3, WAV, VOB, etc. to go with your local playback, or portable devices, such as iPod, iPhone, PSP, Zune, cell phone, Apple TV and so on.
With Moyea YouTube Converter advanced options and settings, you are guaranteed an output quality you preferred. You can reset the audio parameters, crop the video content, and trim the video length. PSP Video Manager, the integrated tool, helps you transfer multiple PSP videos between computer and your PSP freely. You don't have to take a thought of the naming conventions on PSP, and it is easy to transfer PSP videos to your computer with PSP Video Manager.
Moyea YouTube Converter Download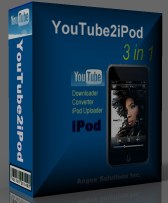 YouTube2iPod allows user to download videos from YouTube, Google Video, DailyMotion, NicoVideo, Veoh, MegaVideo, Yahoo Video website to PC and convert it mp4, mp3 for playback on any iPod or any pocket device. The tool provides right click on Internet Explorer or Firefox to easily download YouTube video.
YouTube2iPod also includes a converter to convert youtube videos among these formats: FLV, MPG, AVI, WMV, WAV and MP3 to AVI, MP3, MP4 or WMV, convert youtube Flv to mp3.
Another advantages of YouTube2iPod is that it has a tool to make automatic downloads according to your preferences, like, for example, if you configure the program in Today's Top 5 Most viewed videos in the Comedy category, downloads without you having to be there, and you can do multiple and numerous combinations. YouTube2iPod also has a video organizer, so you can group them according to your needs, and you can preview them, order them, delete them etc. Without doubt a magnificent program for all Youtube lovers. YouTube2iPod Download
Related YouTube to mp3 software Recommend and Download:

ImTOO YouTube Video Converter - The most powerful YouTube downloader and YouTube video converter software. It support convert youtube video to mp3. Download
Axara YouTube Tools - Download, Save and Convert Youtube video to video formats like AVI, WMV, DVD, FLV, etc and audio formats likes Mp3, Mp4, ASF, WMA, M4A, MOV, etc. Download
YouTube Driver - Download YouTube Videos and automatically convert them to wmv, avi, mpeg, mov, flv, mp4, or mp3 file types. Download Now
YouTube Robot - Download youtube movie and convert YouTube to all audio & video format, such as MP4, 3GP, 3G2, MP3, M4A, etc.. Download
My YouTube Converter - download and convert YouTube streaming video for playback to your iPod, PSP, Mobile Phones, PC, MP3 player, etc. Download Now
Free YouTube to iPod Converter - convert YouTube video to popular video and audio formats such as MP4, MPEG-4, H.264,MP3, AAC,M4A . Download Now
YouTube Video Ripper - Video from YouTube will be converted and saved as AVI, MP3, WMV, MP4, MOV, 3GP, SWF or FLV files.. Download Now
E.M. Youtube Video Download Tool - Download, Convert, Burn, Search, Repair and play any Youtube video certainly included mp3. Download Now
Free YouTube Converter - convert YouTube video to popular video and audio formats such as AVI , WMV ,MP4, mp3, etc. Download Now
MCS YouTube Downloader - download videos from YouTube and convert them to WMV, 3GP, 3G2, WAV, MP3, etc. Download Now
YouTube Video Downloader - download videos from YouTube and convert them to mp4, 3gp, avi, wmv, mpg, mp3, ringtone, etc. Download Now
Aiseesoft Youtube Converter Suite - convert Youtube FLV video into WMV, AVI, MP3, MPEG, MP4, etc. Download Now